How To Grow Traffic To Your Website [A Step-By-Step Guide]
Last updated Nov 26 2018
I don't remember the exact time when people have moved their business online. A few decades has passed, am I right?
But I clearly see that online business gains the pace day by day alluring the new customers. However, despite the fact that online business rules, it has nothing to do without a properly optimized website.
Unfortunately, there is a bone of contention that green digital business people hit upon. They know that their aim is to get traffic but they don't know how to sort things out.
SEO is the key that will help you open the door and let the traffic in. In other words, you must optimize your website if you want to increase your traffic.
Yes, a website owner with a solid budget can hire an SEO guru who would optimize the website and improve its rankings. But not every new entrepreneur has money for that. Thus, it is very important to know SEO basics. This knowledge will help you a lot in terms of gaining traffic to your website.
In this post, I will reveal you some SEO aspects and show you the ways of generating more traffic.
Let's start!
SIDENOTE: if you stuck between the horns of the dilemma "how to do an SEO audit", you should watch this video lesson:
Analyze Your Target Audience Mindset or Thing like Your Customer
I think you would agree with me that the main idea of website optimization is to make it easily visible for searchers and users. Yes, it is hard to predict the behavior of a bot, but you can always step into your potential customers' shoes and understand what they are looking for on Google.
Consequently, I recommend you to follow an example I'll provide you with further.
Let's pretend that I have launched a site that offers cakes in Canada. The first query that comes to my mind would be "buy cake online in Canada", right? But what other queries might fit here?
'Order cake online in canada'
'Buy cake canada'
'Birthday cake canada'
'Buy cake for birthday canada'
Etc
As you can see I already have a few query variations that I would use as a potential customer for my website. The following thing I want to analyze is how my target audience discusses this topic on the web. I must understand is how 'cake' topic popular among the people.
Analyze Topic Popularity
We use keywords to search for any kind of information on Google. You should analyze these keywords to understand which of them would be more interesting and applicable in terms of optimization.
You can use a bunch of SEO tools but I trust Keywords Explorer only. The example below will illustrate you what useful metrics this tool can provide you with:
I analyzed a long-tail keyword 'cake delivery ottawa.' The keyword has search volume 80 across Canada, additional search suggestions I might pay attention to as well, and the amount of traffic I would get ranking #1.
As you already understood you can get the same data for whatever keyword you like.
Nevertheless, you might ask me "how can I find more keyword suggestions without using Keywords Explorer?"
Read on and you'll find that out.
How to Find More Search Suggestions
Did you know that Google can help you with finding search suggestions?
Check it out then:

When you start typing your inquiry, Google offers you search suggestions that are related to what you need. Furthermore, when you add the following letter, Google adjust the list of search suggestions based on this letter: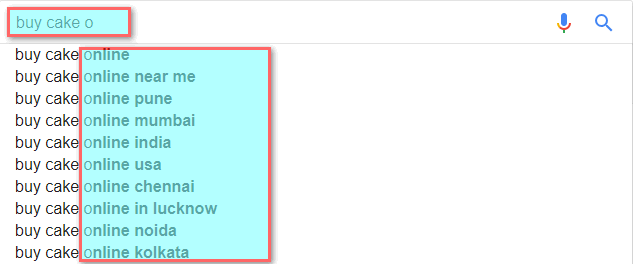 And don't forget to scroll down to the bottom of the search page – you will find a few more suggestions there: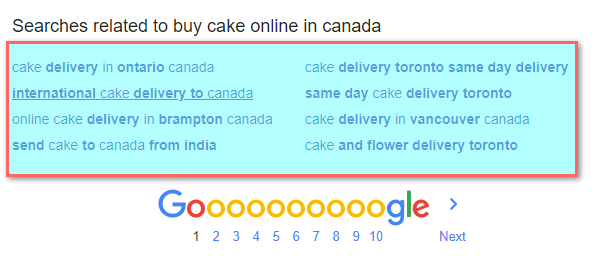 Using all the methods of finding search suggestions could be helpful to you.
Analyze How People Discuss the Topic
No doubts that content brings you traffic. Therefore, it is highly important to create the content that would be useful to your target audience.
But how to find out what content would make your audience read it and stay on your blog?
Yes, you can dig into the conversations with your target audience trying to catch a few fresh ideas for your content. However, it takes too much time. Thus, you need the other solution here.
I prefer to adhere to using Content Explorer. This tool can provide you with tons of topic ideas that would be related to your audience's interests. You just need to type a keyword you want and discover the results: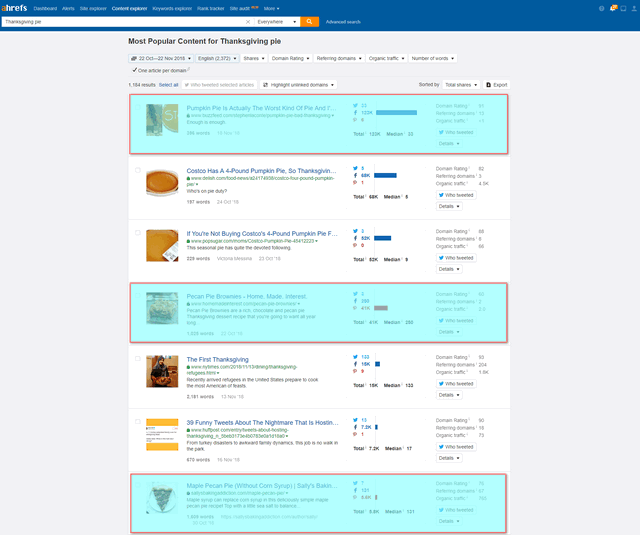 As you can see I've highlighted a couple of topics that would be a good fit for your personal content marketing campaign.
Other than that, you can look through social media channels and forums related to your niche. Let's see what I will get for my 'bakery' content on Facebook: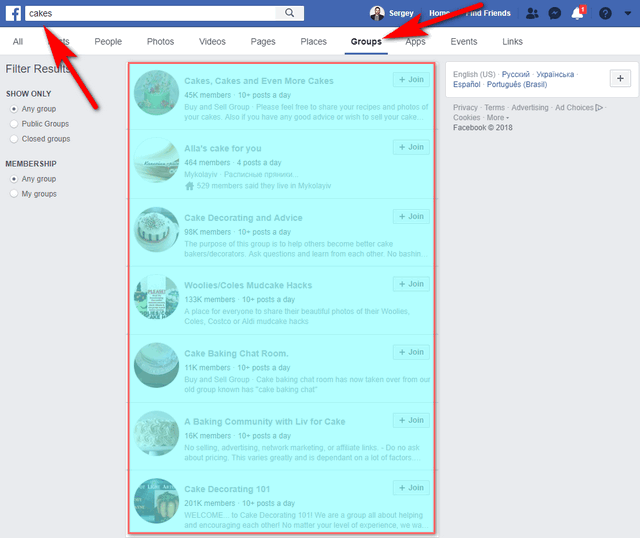 A single keyword 'cakes' provided me with the list of groups that include thousands of members. I am sure that I can find lots of topic ideas for my content.
Don't shy away from searching the ideas across different forums. You can find many forums on Google. Here is what I have found in a blink of an eye: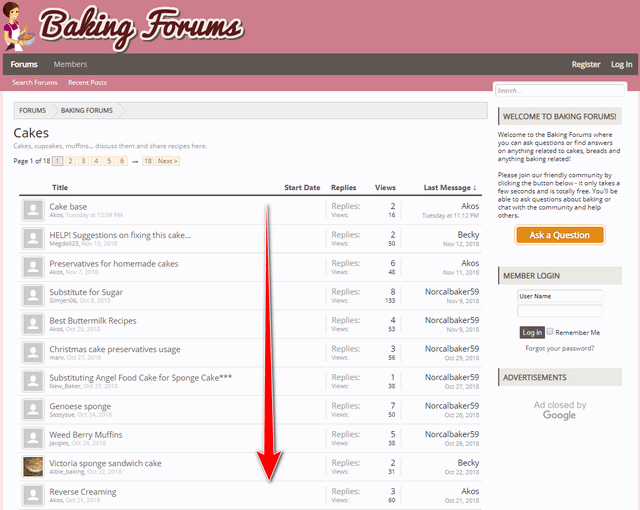 I think that the topics that people discuss could be transformed into nice content ideas. Thus, reap the benefits.
Absolutely, I can't miss such place as Quora: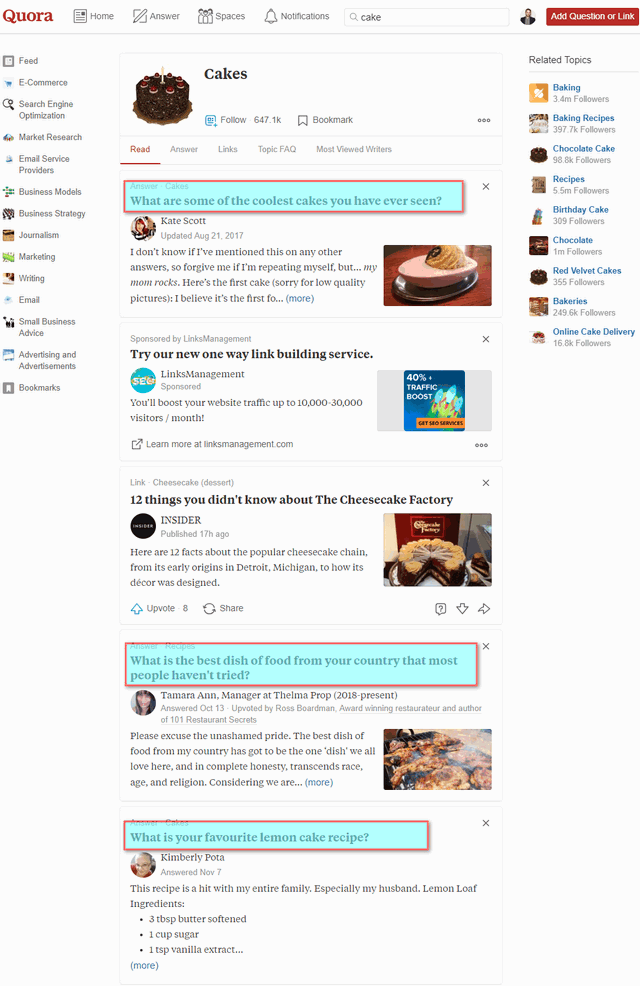 I can find good content ideas right from the start. For example, the question "What is your favorite lemon cake recipe?" I would paraphrase into the topic "Top 5 Lemon Cake Recipes You Should Be Armed With" and so on.
Keyword Intent
Talking about keyword intent you should know that there are three categories of it:
Informational
Navigational
Transactional
Why is it important to understand keyword intent?
Google pays attention to the queries people use to get the information from the search. It tries to provide the results that would 100% fit the inquiries. In a nutshell, if you understand the intent behind the keywords, you will have more chances to get the audience you need.
I want to show you how to understand the difference between keyword intent categories with the help of examples. Have a look at the screenshot down below: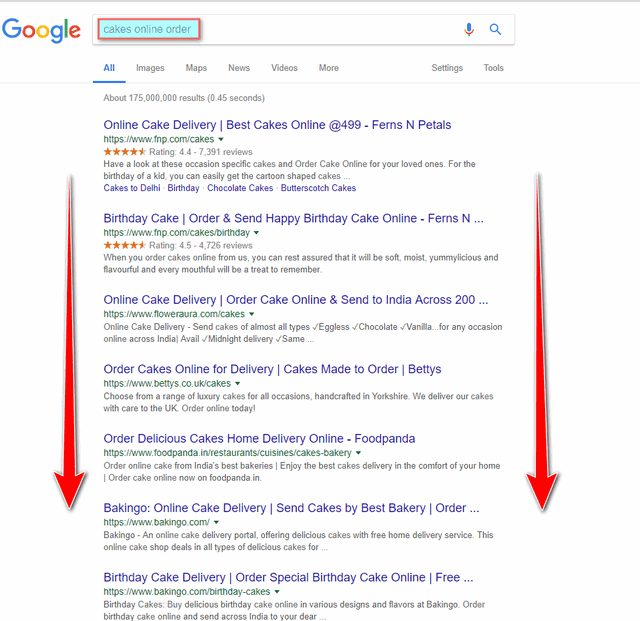 I typed a query 'cakes online order' and Google provided me with the list of site where I can order a cake without leaving my apartment. However, if I change a few words in my query, I will get a completely opposite list with these results: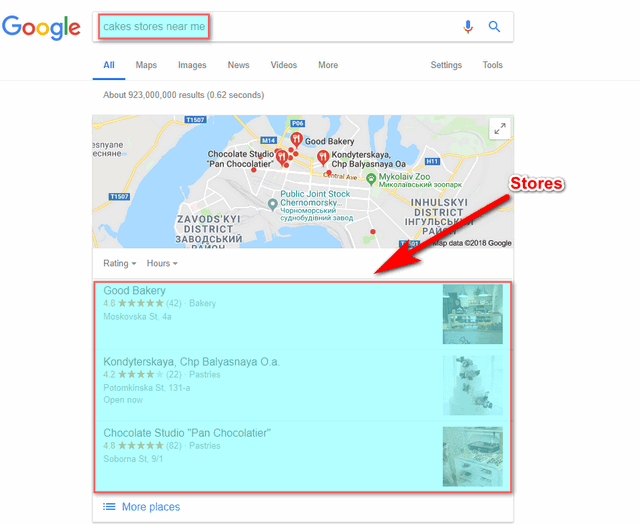 I got the exact stores that I can visit in my hometown.
I am sure these two examples have illustrated you the difference of keyword intent and you will take this information on board.
Optimization of the Pages
As I mentioned in the post introduction, SEO plays a crucial role when it comes to driving traffic to the website. Yes, you can stay away from it and hire an SEO specialist who will optimize your website. Nonetheless, you must be able to do a basic optimization by yourself.
I will cover six points that you should be familiar with:
1. URL optimization
Any URL must reflect the topic of the information on the particular page of the site. The best way to do it is adding a target keyword to the given page. Here is the example of the URL that leads to a piece of content on "lemon cake recipe":
'domain.com/blog/lemon-cake-recipe'
2. Meta properties
Meta properties are the 'must' elements of every page on your website. They help crawlers find pages on site. There are two main meta elements that you should not forget to add – 'meta title' and 'meta description.' Both of them must include a target keyword. Here is how they are reflected on Google:

3. Content and its structure
No content – no information on the website. In other words, make sure your website contains a solid blog with engageable and high-quality content. Talking about content length, I can state that the longer it is the better for your ranking. Google stands for long-form content. 2K + words of well-optimized articles is a good choice.
When you create one more piece of content, you must always keep structure in mind. Why is it so important?
A structured content is like a rout for crawlers that have no roadblocks for categorizing it. Moreover, it makes the navigation on your website much easier.
There are two basic tags used for content structuring. H1 tag (header of the page) that must be one per page and H2 tag – for subheadings of the page (it should include a target keyword as the H1 tag does.)
Now I would like to show you an example of proper content structure:
H1: TOP 5 Best Cake Recipes
H2: Classic Yellow Cake with Chocolate Frosting
H3: Ingredients
H2: Coconut Bundt Cake with White Chocolate-Coconut Glaze
H3: Ingredients
H2: German Chocolate Cake
H3: Ingredients
Etc.
4. Visual elements
I wonder who likes to read content that has no visual elements like images, infographics, charts. I, personally, don't like. Images and other visuals catch our eyes and we want to read the post till the end. It makes your content user-friendly.
Unfortunately, search engine crawlers can't find the images if they don't see them. Thus, you must add alt tags to all images on your blog. These tags should have the description of the image including a target keyword.
5. Internal linking
Internal linking is a good practice of optimization that you shouldn't neglect. It involves two positive aspects of optimization like improving the speed of website crawling and helps users navigate through your website.
Site Accessibility
To make your website accessible for crawlers, you must never forget to keep an eye on three technical aspects:
Site speed (control the speed of your site with Google's PageSpeed Insights tool)
Sitemap (this file serves a connecting link between the pages on your website that helps crawlers find them and index)
Robots.txt file (the goal of this file is to let crawlers understand which pages should be crawled and which should be not)
If you fulfill these technical conditions, your website will be easily accessible both for crawlers and users.
Final Note
I am quite sure that the material I have introduced to you in this post seems a bit difficult to absorb. Despite the fact, you must discover these practical pieces of advice deeply. Yes, SEO is not the thing that you could get through in a few weeks or months. It takes lots of time and patience.
I hope that I managed to serve the info the easily digestible way and you will walk away with a conclusion.
If you found my post useful, feel free to share it on your socials. And don't hesitate to leave the comments.