A complete guide to IP Tracking Software.
Hi everyone, I'm Ant – I lead growth at Whois. 👋
Today, I will be explaining a little more about IP tracking software and how our tool can add value. Here goes.
Whois Visiting is a IP tracking software designed to maximise the potential of your B2B marketing campaigns. Business IP tracking is a specific software for Website Visitor Identification and more specifically company recognition. The tool compounds the key analytics and metrics of website visits and channels them towards a sales mentality and outreach process.
No matter how good your product, service or content is, website visitors who have displayed inbound intent, are leaving your website without making a purchase or commitment.
This is due to the casual nature of online browsing and although many visitors will return to your website, others may find distractions, or alternatives. As anonymous website metrics, you are restricted in terms of what you can do. We provide a solution to identify the businesses which have visited your website and therefore generate new business leads which could otherwise have gone cold.
Experiencing any of these?
"I am unsure how IP Tracking works."
"I need more leads from my IP Tracking Software."
"I am generating website traffic but struggling for conversion."
"I want a more sustainable approach to IP Tracking."
"I would like to know which businesses are clicking on my ads."
These are common themes that resonate throughout the industry when talking about IP Tracking Software. Below, I want to explain why our software can add value.
Looking to identify website visitors using IP Tracking?
You are in the right place.

How does IP Tracking Software work?
Using reverse IP tracking, Whois Visiting identifies the businesses visiting your website and gives you direct contact information to follow-up. You can access your leads from within the visitor table or set up triggers and reports to have them sent directly to your inbox.
With such a large volume of website visitors leaving your without taking action, the data we provide can be acted on following up with companies who have displayed a genuine and legitimate interest in your products and services.
How is Whois Visiting different from other IP Tracking software?
Whois Visiting is a qualitative data platform designed to show you the identity behind the information provided by your analytics tool. Not only do we tell you the company name, we also supply you with the business contact details.
What is your average cost-per lead generated?
Whois Visiting provides a fantastic return from your investment in the software and the lowest cost-per business identified compared to similar tools.
How can i generate more leads for my business using IP Tracking?
Whois Visiting as a software allows you to maximise the potential of your website traffic. If you want to generate more leads, you will need to drive more targeted traffic to your landing pages through improving and enhancing your content marketing, search engine optimisation, paid advertising and social media activity.
More than just an IP Tracking software.
Identify website visitors
Receive immediate notifications & generate qualified leads by revealing anonymous website sessions as real-time business data.
Get started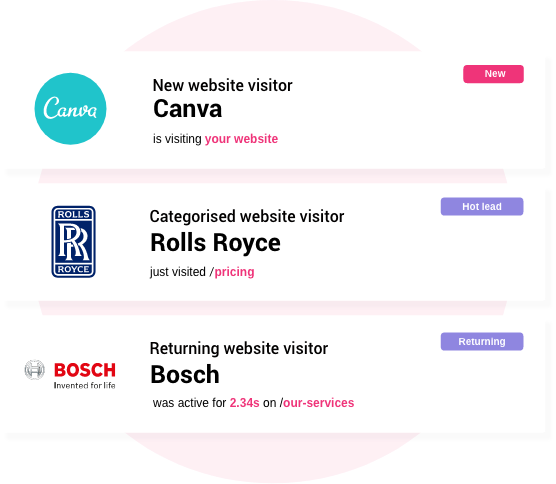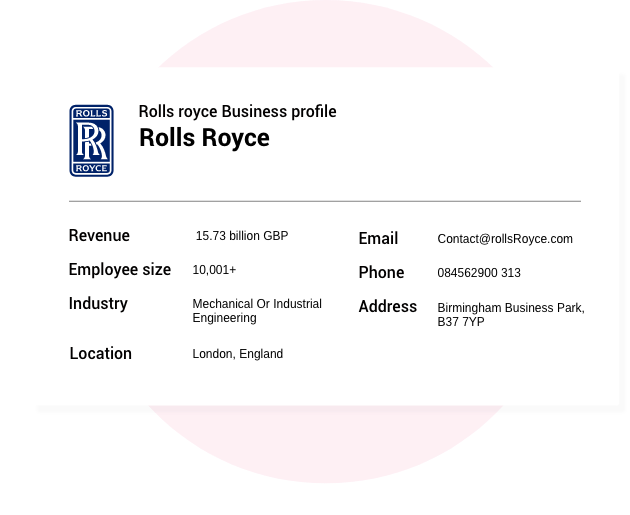 Company contact information
Access company information and key business contact details for qualifying leads and effective prospecting.
Learn more
Understand every business journey
Add vital context to each visitor session – source of visit, time spent browsing, specific pages and number of pages viewed, new or returning company.
Request a Demo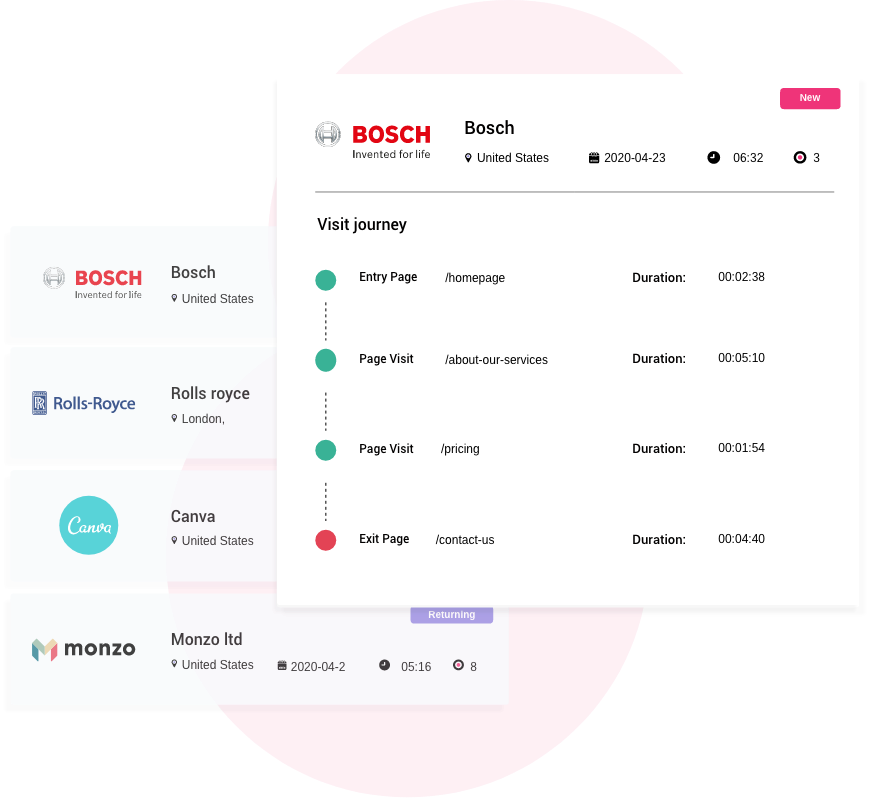 to try Whois IP Tracking software.
We want to develop together in a mutually beneficial relationship. The more value your business can get from the tool, the more likely you are to continue to grow simultaneously with us across the B2B industry. We have removed the barrier to entry for accessing website visitor tracking and our pricing, alongside education, allows for an amazing Return on investment month-after-month.
2. Full Transparency and flexibility
We are fully transparent in our offering and services. Full access free trial, clear pricing plans, flexibility in helping you maximise the potential of this powerful data.
3. Quality service and valuable education
From code installation to closing yet another deal. We are here to assist and support in any way we can to maximise your experience using Whois. We intend to be a fundamental part of the journey in growing your business revenue with additional prospects and follow-up.

Generate qualified business leads from you campaigns using a powerful tracking code solution. Identify real-time website visitors at the top of your sales funnel.
Get started

Whois enables you to deliver personal website experiences which increase engagements and conversion through live, contextual communication.
Request Early Access

Connect with qualified business leads using visitor contact information. Access our directory to explore similar business profiles and build an endless pipeline of qualified prospects.
Get Access