LinkedIn has become an unbelievably effective hub for business development and recruitment, with over 300 million members (one in three working professionals) storing their skills, online CV's, professional personalities and working history in one almighty database.
It is such an invaluable source for discovering powerful industry information and also for direct sales prospecting and lead generation purposes.
It is claimed that on average, a user will spend 17 minutes a month browsing and connecting on LinkedIn and 25 million profiles are accessed every single day!
LinkedIn provides various account options and business solutions to suit your own professional social networking requirements.

LinkedIn's Premium memberships are rapidly expanding and offering excellent versatility for specific purposes beyond the basic free account. Including Premium Career, Business and the LinkedIn Sales Navigator.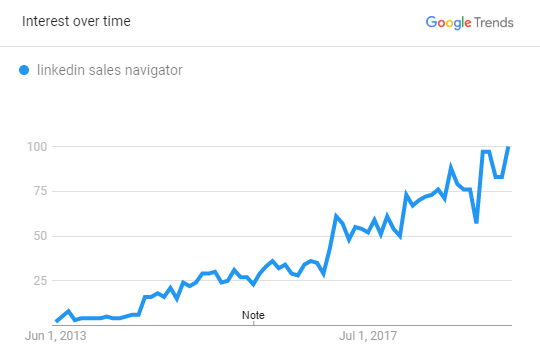 Access to features across the LinkedIn products are restricted dependent on your chosen package. You can view the details of each option here.
There are many advanced tools, extentions and plug-ins which allow you to maximise the potential of LinkedIn beyond its basic form for communication, marketing, prospecting, lead generation, sales development and productivity.

Many are free, others combine better with the paid subscriptions (or require one seperately) and some are frowned upon by LinkedIn as an organisation.

However, third party tools are not illegal, just often have a shorter life-span than other lead generation and prospecting software you might be using. Therefore it is at your own discretion to explore and utilise each tool as you see relevant.
Here Are Five Tools To Improve Your Prospecting And Lead Generation Using LinkedIn
1. e-Link Pro
eLink Pro takes your LinkedIn profile and uses it as a marketing and advertising tool to spread visibility and awareness of your business.

It is an excellent concept for top of funnel marketing and extended exposure which revolves around the logic that by visiting a person's LinkedIn profile (and therefore delivering notification of that), out of natural intrigue if nothing else, your profile will receive a view back in-turn.

You can manually schedule or automate a prospect list with LinkedIn's advanced search tool and target extremely specifically by key word, industry, company size and job title to identify exactly who you want to engage with.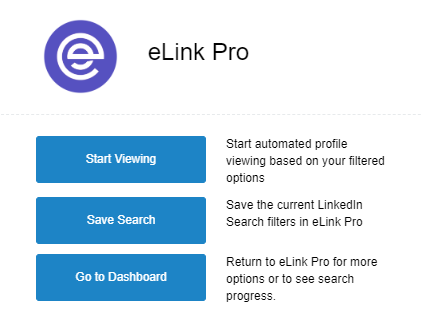 Although look-back rate's may vary, from here you can optimise your own profile and outline a journey for the targetted individual to digest your bio and a detailed summary which you can prepare displaying the value you offer clients at your current company.

Many of these profile visitors will then go on to visit your website from the direct link and interact with your conversion optimisation tools or identified by website visitor tracking software and qualified as a warm lead.

There is also the potential that they take the option to explore further through search engines and social media channels.

The email alert feature is a good way to action prospects visiting your profile in an immediate way.
LinkedIn Daily Profile View Limits:
| LinkedIn Account | Daily Profile View Limit |
| --- | --- |
| Basic | 100 |
| Premium Business | 350 |
| Premium Executive | 500 |
| Sales Navigator | 1200 |

You can set the maximum daily views to allign with your LinkedIn membership level.
The e-Link Pro dashboard provides a clean overview of all activity, helping you to build a network and there is access to all of the profiles which you have engaged with.
There is an option within the dashboard to export the profiles, so even if they cannot become a connection, you have a further opportunity to make contact using the data.
A 5-day Free Trial will allow you to qualify the relevance of the functionality for you and your business.


2. Linked Helper
Although this is more of a service than a tool, Linked Helper goes beyond the concept of creating initial awareness and allows you to generate leads directly from LinkedIn with a wide range of automated features.
By automatically inviting prospects to connect based on the criteria in your targeted search, you will grow your connections at a rapid rate. Additional relevant connections gives you a platform for more engagements on posts and content you share with your social community.
Further to this, you can send automated follow-up messages to members who accept your connection, allowing you to extend the possibility of converting a profile visitor into a lead.

It is ideal for any sales person who enjoys the interactive nature of LinkedIn and takes an interest in growing their personal brand.
Linked Helper is a powerful growth hacking tool available for a reasonable price considering the full range of functionalities included.



3.Discover.ly
This is a brilliant little chrome extension which can be very valuable. Discover.ly will enable you to gather further information quickly when using LinkedIn, and save time.
Once you are on a person's LinkedIn profile with relevance to you, with the extension activated, a green icon will appear to indicate extended information on that person including Twitter data and Facebook mutual friends.
This can speed up the process of whether they are beneficial for purpose or not.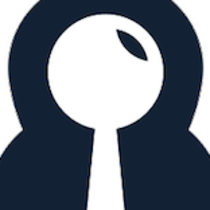 4. CrystalKnows
A communication coaching tool which analyses the personality of a social profile to then give insight of how to approach them in your email or message.
It may even indicate what way is the most effective to make the contact. Using a behavioural framework, Crystalknows will provide real-time suggestions and a similarity score allowing you to know to what extent you need to change your writing style.
Keyword and draft email suggestions also appear and will aid your communication structure to achieve better results.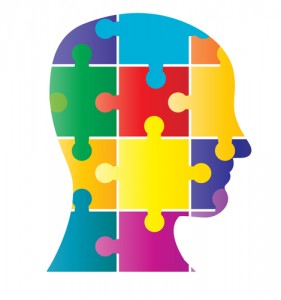 5. Attach
Attach is a simple but useful tool which you can use on LinkedIn when sending InMail to improve your response knowledge. The tool will give you great insight into your email's journey once sent.
It will Include notification of when it's been opened, time spent reading and how they then use it. It can provide great data for the progression of your email and messaging campaign in knowing what works well and what has less success for improving your sales results.