Although social media occupy most of the attraction and lead generation strategies for Marketing, Email Marketing remains one of the most important channels of professional communication, if not the main one – be it for B2C or B2B businesses.
But while it is a great opportunity to communicate with leads and customers, it can be challenging to work with an email marketing strategy.
It turns out that several companies have saturated the use of this channel for a long time and, added to the prominence that other Digital Marketing actions (such as SEO and social media) gained, caused the email to be left a little aside.
Also read: How To Use Email Marketing Strategy To Generate More Sales
However, email marketing has never stopped working and is only successful when used correctly. And That's because this type of action has unique and very valuable characteristics.
It's a channel that offers opportunities for much more improved technologies compared to the past and that is still a ROI champion compared to other channels.
There are many paths, types of emails and metrics to follow, which means that many businesses do not know where to start. Before you even start an email marketing campaign, you should ask yourself:
How should I offer content to my leads and customers?
What kind of messages work?
What is the best type of email to promote a product?
And what kind of targeting should I do?
For this reason, many companies end up finding it very difficult to invest in email marketing, as they often do not know if they are doing the right thing and if email is really contributing to the results.
Creating a relationship with your leads and customers through Email Marketing strategies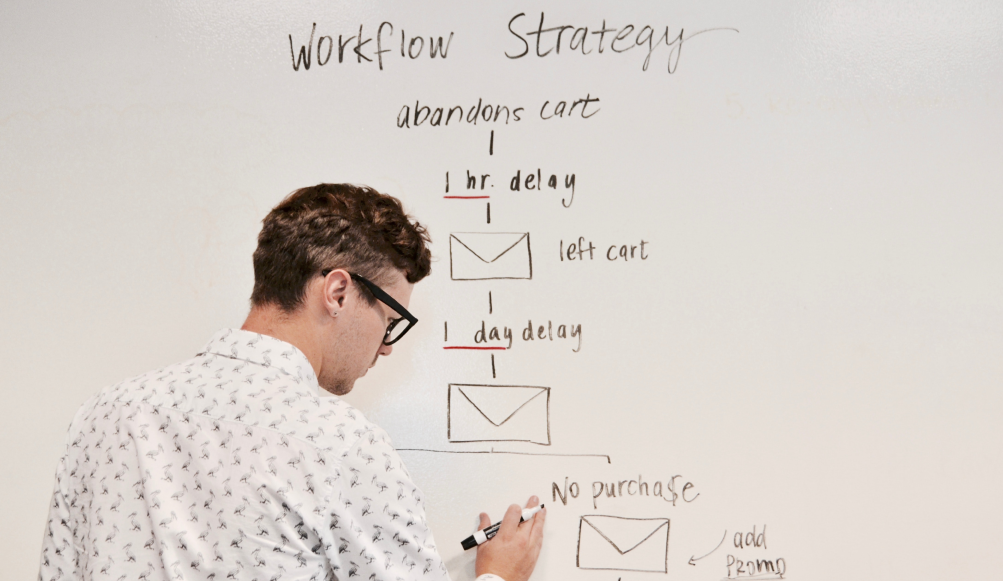 Emails are a more direct and profound form of contact. In social media, for example, we talk to everyone, and the various conversations are lost among each other.
Also read: How to get to know your ICP (Ideal Customer Profile)?
Algorithms choose which messages will reach you and the control of deciding what to consume ends up getting out of your control.
Now, with e-mails, everything is different: as long as there is no problem with the address, message sent and message delivered.
As much as we all have to deal with some unwanted SPAMs, there is a greater propensity to follow each message, and everything that is important and useful will be opened and read.
Finally, when someone opens your email, you get their exclusive attention (even for a brief moment), unlike what happens on social media, where the volume of parallel information – and consequently the distraction – is much greater.
The more Lead knows about the topic you have to offer, the more educated the subject is, the greater the tendency to recognize the problem and feel willing to invest in the solution.
But for that, it is necessary to keep in mind that it is not enough to just talk about your product or service; ideally, you should bring useful information to readers about your company's area of expertise.
Thus, you will retain the visitors and engage them, which in the future can yield opportunities and sales.
With automation campaigns, for example, it is possible to segment leads according to many criteria, such as position, company, segment, time of purchase, etc. and thereby deliver educational and attractive content, capable of solving doubts and circumventing their objections.
Marketing Automation is a very useful tool to maintain personalized relationships by email in a smart and scalable way. It is very common to see companies that take advantage of this resource using it to send content, but it brings many other opportunities.
The result, in practice, is a consistent relationship between your company and its leads, which delivers value at each stage and therefore keeps the public eager for the next email.
When can you use email marketing automation?
It is not always clear when we should choose to use only Email Marketing or create a Marketing automation flow.
The idea is to decrease the continuous effort to send a sequence of emails that could be automated, creating segmentations and inserting Leads into a flow to receive only one relevant email.
To be clear, when talking about Email Marketing, we refer to the communication carried out via email that happens between a business and its leads in a timely manner.
We should use this functionality on some occasions, such as: sending a newsletter, hypersegmented campaigns, analyzing data specific to email campaigns.
On the other hand, the purpose of automations is to relate to this lead according to the conversions made on your website, social media or email marketing.
As the actions are taken by the person, it is expected that automated communications will be created, but personalized according to the path taken.
Email Marketing automation ranges from simpler things, such as the welcome after registering for a newsletter, to thanking the customer for contacting us.
Or it can happen after registering on a Landing Page, pop-up or several other possible conversions, such as integrations, Facebook Lead Ads, etc.
You can consider using email marketing automation to align with the Inbound Marketing strategy according to the purchase journey and to schedule recurring campaigns, for example.
Key Indicators to optimize your Email Marketing campaigns
When we talk about digital marketing indicators, we are dealing with metrics that help guide your campaigns. These indicators help you to identify:
If the subject was attractive enough to make the lead open the email;
Whether CTAs encouraged the lead to click on email marketing;
Whether the advertised offer was able to generate sales;
And more.
The metrics of email marketing are the numbers that translate the results of the actions of the marketing strategy.
From the moment they are triggered, emails generate data that shows how they reach the recipient, their engagement with the content and a host of other details.
In general, many perceptions can be captured using these metrics.
It is essential to have the ability to understand these numbers within contexts, interpreting what the results translate into the success or failures that the actions have faced.
This is because they are not able to be decisive in a strategy when analyzed in isolation. Check out some of the most important metrics to analyze.
Top 5 Email Marketing Indicators
Open rate
To measure the results of Email Marketing work the first metric we need to track is the email open rate.
The opening rate of an Email Marketing campaign is always one of the main metrics tracked.
It represents a direct indicator for measuring performance and is essential for measuring the attractiveness of email campaigns.
The email open rate represents the number of people who opened the email sent divided by the number of people who received the email campaign.
This Email Marketing metric is one of the most important to measure the results and the attractiveness of the subject used in sending.
The email open rate does not say whether lead read just one word of the email or the entire email. However, this does not mean that this is a useless metric.
It is a great thermometer to discover important points, such as:
Define the best subject in an A/B test;
Know the best time to send your emails;
Identify the attractiveness of your campaign.
CTR
CTR is another important indicator to be monitored in a Digital Marketing strategy. It measures the click-through rate in relation to the amount of messages fired.
In addition to directly impacting the cost and efficiency of your campaigns, it also influences the performance of your pages in ranking in organic searches.
Meaning: a high click-through rate benefits your entire planning.
It is important to keep in mind that it defines not only the result of the strategy, but the interest of your audience about certain content and the quality of your email base.
CTR is calculated by dividing total clicks by the number of emails sent. The calculation includes, for example, multiple clicks from a single user.
It is a metric that needs to be monitored frequently, as it calculates the performance of each email marketing sent — and can change daily, as a user who has not seen yesterday's email can view today or tomorrow, for example.
Bounce Rate
The bounce rate indicates the number of emails that did not reach the final recipient. This type of problem can happen for several reasons, from temporary errors on the server to even deactivated accounts.
Keeping up with this metric is critical to keeping your email list clean.
That's because high rates of hard bounce can cause your company to be seen as a spammer for internet service providers.
Conversion Rate
Conversion Rate represents the rate of people who opened their email, clicked on the CTA, were directed to a landing page and, finally, completed the intended action with that shot.
It needs to be integrated with another platform, like Google Analytics, to precisely measure where the conversions are coming from – whether they are, in fact, from email marketing or some other access.
A low conversion rate can mean several things, including:
Your email base is not consistent with your audience;
Your strategy and approach do not match the expectations
The content expected by the user or people are being redirected to a page that is not optimized for conversion.
ROI
ROI, or Return On Investment, measures the company's performance based on the actions performed.
The ROI calculation is important to provide feedback and the possibility of new strategies for the marketing team.
In addition, the monitoring of this metric makes it possible to point out which campaigns presented the best results and, from there, work on marketing emails capable of converting even more.
To calculate ROI, subtract the investment value from the gain and divide by the investment value. The result is expressed as a percentage.
Tips to increase the performance of your Email Marketing Campaigns
One of the main tips is to define the actions you intend to take with your Email Marketing campaigns.
To define these actions, you must establish an objective.
And it's a question that only you can answer: is it selling, informing, educating, downloading your materials, generating referrals?
With this focus, you, when establishing a plan, will prioritize your actions based on the objective and generate more results for your business.
There are also some good practices to follow, such as:
Encourage opinions in your email marketing. Always include possibilities for customers who have already purchased to leave their opinion (Also read: Using Referral Marketing To Get Exposure for Your Brand);
A/B test your email marketing campaigns;
Target and customize your campaigns, this is crucial;
Build the appropriate design for your campaign (and responsive);
Automate part of your process (with dynamic content and automatic segmentation, for example);
It may seem superficial but use an interesting and creative email subject.
In the end, think about the content, and whether it is prepared for lead generation, nutrition, or conversion – according to the purpose of your campaign.