With this content, we will be talking about different types of website visitors and explaining ways to see who is visiting your website. You'll check:
Can You Know Who Is Visiting Your Website?
How To Identify Your Website Visitors?
What Other Website Visitor Information Can You Get?
Using Website Visitor Tracking Tools To Identify Who Is Visiting Your Site
Can You Know Who Is Visiting Your Website?
In short, you are unable to identify particular individual visitors who visit your site – unless these leads do it voluntarily.
You can usually collect contact information from visitors via email sign up, social sharing, call to actions, and so on.
But when it comes to B2B business, using the right tool, you are able to identify unique IP addresses.
How can this help you?
First, the Internet Protocol (IP) is the identification number of devices that connect you to the internet.
As each IP is unique, this identification number can be translated, through reverse IP lookup to get to the domains associated with these IP addresses.
You can understand how the whole process works through this content: What Is IP Address And Everything You Should Know.
So, basically, your target – who may be a decision-maker for a company that has the ideal customer profile – can leave your valuable information, just like a trail.
That's because with the use of IP Tracking Software that performs reverse IP searches, you will obtain the name of the company, the main phone number and the email address of these visitors.
And if you are in a B2B company, getting information about who is visiting your site is really valuable.
How To Identify Your Website Visitors?
When it comes to the visitors, you've probably asked yourself a few times: Who are you? What do I know about you? Can I contact you? Can I continue to track you?
These questions are really intriguing and the answers vary based on many different factors with regards to the nature of your website, the channel, the intention and the activity.
Firstly, I think it is really important to understand a few points:
Why do you want to know who is visiting your website?
Do you actually want to know WHO?
Or just how many visitors you've had, how often do they look at your site and where are they actually coming from?
It is important to reflect on these questions because we usually just like the concept of knowing who looks at our website, as a vanity metric.
If so, anonymous website analytics data is probably going to be more valuable to you.
In order not to fall into this trap, start understanding what you are actually going to do if / when you find out this kind of information?
Ring them. Email them. Ask for feedback?
If so, website visitor tracking software can be really beneficial for you.
By identifying your website visitors, you can create actions to improve your conversion rate, invest in lead generation strategies and improve the sales process.
95% of website visitors leave your website without taking action.
No matter how good your product, service or content is, website visitors who have displayed inbound intent, are leaving without making a purchase or commitment.
This is due to the casual nature of online browsing and although many visitors will return to your website, others may find distractions, or alternatives.
As anonymous website metrics, you are restricted in terms of what you can do about this other than understand what drives traffic and to where.
Website visitor tracking and analytics tools provide the functionality to see who is visiting your website.
This information is GDPR compliant and can be used by sales and marketing teams in order to identify who is visiting your website.
But, for that to happen there is a further stage in the process.
The natural process of identifying visitors through campaigns
Traditionally, if you have pre-populated data for a specific marketing campaign which is sent out to an email or by direct message, tagged and clicked on, you will be able to see who is visiting.
To do this, you will have to build custom URL parameters and include the relevant campaign name, content and term which you want to track.
Depending on how detailed you want to be in seeing who visits from the campaign, you can create unique identifiers for each target, or for a group of targets.
You can then check and see who exactly has visited by filtering your landing page sessions by campaign or campaign term in the drop down.
But for generic links and organic routes to your website there will be no way to attach the identity or differentiate between the clicks other than the available demographic analytics.
Also read: Website Visitor Tracking – A Complete Guide
Can I see companies visiting my website?
An alternative way of identifying your website visitors is to see which businesses and organisations browse your pages.
You can do this by using a visitor identification software such as Whoisvisiting.
This process does not require any pre-formatting of your prospects or potential website visitors.
Only the application of installing a tracking code in your website header.
When this is active, the website tracking tool can apply a reverse dns look-up to every hit, filtering the internet service providers and show you the company name label that belongs to the static IP address.
Also read: Complete Guide For Using Whoisvisiting Data Analytics Tool
Can I find the person that visited my website?
Quite possibly, yes. But we cannot guarantee the individual.
There is no service or software which can tell you this without additional due-diligence or by them leaving a footprint through making contact, leaving their details or responding to a live chat feature.
It is against personal data regulations to display who is visiting your website.
And in fact without an insanely complex tracking system using multiple data points (device, browser, cookies, IP address, email), there would be no way to say.
The closest you can get to this is by obtaining the company from the IP address and then combining that with publicly available information from LinkedIn, Twitter, Facebook or email hunter to find a potentially relevant person.
The simplicity, accuracy and success of this will vary depending on the size of the business.
What Other Website Visitor Information Can You Get?
After seeing who is and has been visiting your website you will then be able to action this data based on the activity and relevance.
You can see lots of other information about the website visitors including their page journey and access to their profiles or contact, also:
Which pages visited;
How many pages visited;
Time spent visiting your website;
New or returning website visitor;
Visitors by channel;
Visitors by location;
Turns out that all of this data can be processed to generate information that can be used by the marketing and sales teams for both lead generation and closing sales.
This is how you can use the Website Visitor Tracking tool for Lead Generation:
By identifying website visitors from your marketing campaigns (paid ads, SEO activity, social media marketing);
Qualify these leads using the Ideal Customer Profile template vs their activities and criteria of a journey;
Lead scoring using the activity engagement;
Send leads to the relevant department within the tool;
Receiving email alerts for the most active businesses / returning businesses / businesses from xyz location.
These are just some examples of what you can do with such data. If you want to know more about it, check out this content too: The Benefits of Using Business IP Tracking Softwares.
Using Website Visitor Tracking Tools To Identify Who Is Visiting Your Site
Google Analytics
Google Analytics is a free tool which can provide extremely useful data for monitoring your website.
To see how many times your website is visited, which pages they are visiting and where your website visitors are coming from – just like we said before.
It allows you to track the number of visitors to your site over a specific period of time and show you how many of the website sessions are unique, or returning.
You can understand the traffic which is active on your pages and also see when someone is on your website in real-time.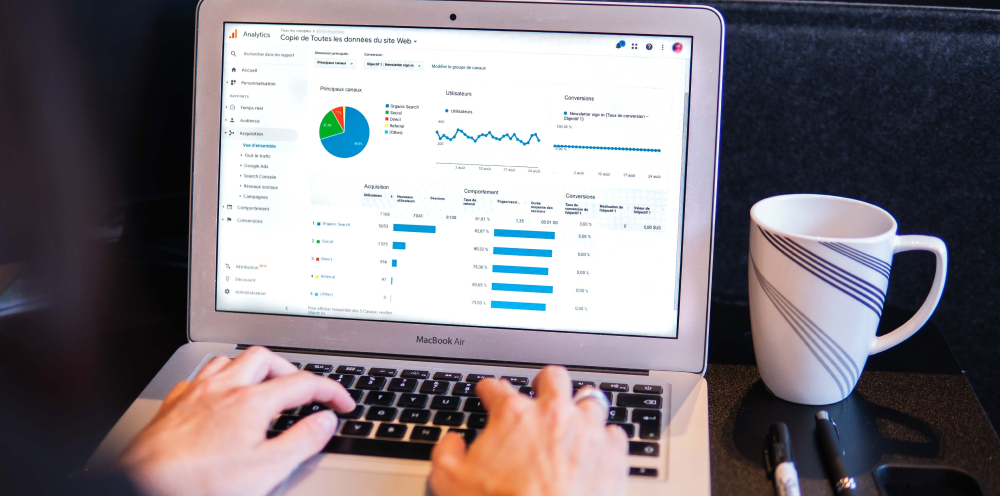 However, the visitor information provided by Google and other analytics tools is anonymous.
It serves the purpose of knowing how many visitors, which device and also the location – but is inconclusive as to revealing a tangible form of identity, company name, contextual application or contact information.
Also read: Whoisvisiting vs Google Analytics
Whoisvisiting
On the other hand, using a website visitor tracking tool like Whosivisiting, you can get more specific and valuable information to use.
After installing the tool, you will be able to login to your own admin panel to start tracking everything centrally. You'll be able to see –
Which companies are visiting your website
The pages they are browsing
How long they are staying for
Which sources they have come from
Of course, you should think beyond the data being collected, so when used intelligently, it can help your business identify lead generation opportunities.
In addition, you will have a vision of where you need to focus your marketing and sales efforts, helping you make business decisions based on 4 main components:
Data Collection;
Dashboard Organization;
Reporting Configuration;
Follow-up Strategy.
The tool also gives the possibility to integrate with software such as Salesforce and Oracle, or you can choose to download it by .CSV and add it to your existing CRM.
We have already created a step-by-step guide on how to get the best out of all the data organized on your Whoisvisiting dashboard.
Check out: Complete Guide For Using Whoisvisiting Data Analytics Tool
Book A Demonstration
Or, if you would like to see the tool in action, please book a demonstration at a time that is convenient.
Demonstrations overview a short introduction to website visitor tracking, allow us to understand your requirements from the tool, and suggest any configurations which will contribute to obtaining more value.
You will also be able to ask any questions directly.