Why coffee is for closers and Whoisvisiting is not just for posers
Whoisvisiting is a system that tracks what companies visit your website and matches this against key information to arm your sales team with hot leads.
By collecting these data, sales teams have the opportunity to follow up with warm prospects within 24 hours of visiting your site.
Chances are you are going to increase engagement and close, capturing potentially lost, disengaged customers before the lead turns cold.
It is great to see which companies are visiting your website and which pages they are looking at.
This gives a far better feeling for your website's performance than just looking at Google Analytics, for example.
The thing is that it allows you to find and test new target markets, increase your Marketing Qualified Leads and also shorten the cycle from visitor to customer.
And actually is the best tool to start building out your Account-Based Marketing strategy.
It helps you to understand what content is useful for potential leads and the journey your clients are experiencing on the website before converting or not converting.
Why is Whoisvisiting such a good value?
Identifying companies visiting your website in the first instance can allow you to filter and pick the most salient and relevant opportunities for your business.
It provides your team with a dashboard look at what companies are viewing your website. This makes it easier to understand who is needing your product but breaks it by the industry as well for archival marketing.
You can never have enough leads as a business, it's the life and blood of the organisation. But more than that, leads that have some real value.
The beautiful thing about whoisvisiting is, due to the competitive price points it provides, you can still be running the tool even when you're busy, actioning the data in the lull periods if you can't jump on it straight away.
Generally, all products within the industry such as Visistat, Lead Forensics, Pardot (to name an extremely small handful) use something called reverse IP.
Reverse IP is what enables these companies (including ours) to check what companies are visiting your website – some companies build on this relatively simple service by including CRM, automation tools, and other technical integrations and others simply reverse IP.
An important note: this information is generally publicly accessible.
Keep reading: The Benefits of Using Business IP Tracking Softwares
There are levels and various database management techniques will improve the integrity of the data but generally this is a simple enough process.
So why do companies charge so much?
IP tracking software is a relatively embryonic industry. Whilst there are a number of companies performing extremely well, the majority of companies globally are unaware of how to utilise the technology.
And most importantly how to utilise to further monetise their operations.
With lack of knowledge inherently comes inflated prices, increased margins for companies and superficially high prices.
It's a harsh fact, but credit where due in as far as companies will charge what they can whilst product is scarce and not widely available.
How are we different?
Typically companies have built their business models on high staff overheads, manual intervention on data and capitalising on the embryonic nature of the industry and consumer.
This does not need to be the case.
Whoisvisiting.com is a SaaS (Software as a Service) business. Our aim is to make this product universally accessible regardless of size or type of company.
Where we differ is being smart with our technology and building a true online model which is automated and does not rely on significant staffing, marketing or other operationally led costs.
This mindset which is core to our business is passed onto you in the form of affordable, consistent and scalable pricing.
It's important to note, we reach out to the mass market providing the raw data to your strategy.
This enables you, our customer, to filter through various companies and cherry-pick themselves the suitable, useful and lucrative business leads.
We're fondly viewed as Pardot, HubSpot Prospects, and Lead Forensics alternatives.
Our process is simple; our goal is to improve simplicity and make it easier for you to use and access information. This is at the heart of what we do.
Ok, so you've Installed Whoisvisiting, now what?
As well as sending your team real-time alerts when someone has visited/re-visited your website, you're able to login to your admin panel and track everything centrally.
We have a range of integrations with leading software such as Salesforce & Oracle or you can simply download by .CSV and add to your existing CRM.
Now your tracking code has been successfully installed, everything is all set for you to start benefiting from the Whoisvisiting platform.
The insights from your website visitor data are extremely valuable. From logging into your account and viewing your website's dashboard, you will instantly be able to see –
Which companies are visiting your website
The pages they are browsing
How long they are staying for
Which sources they have come from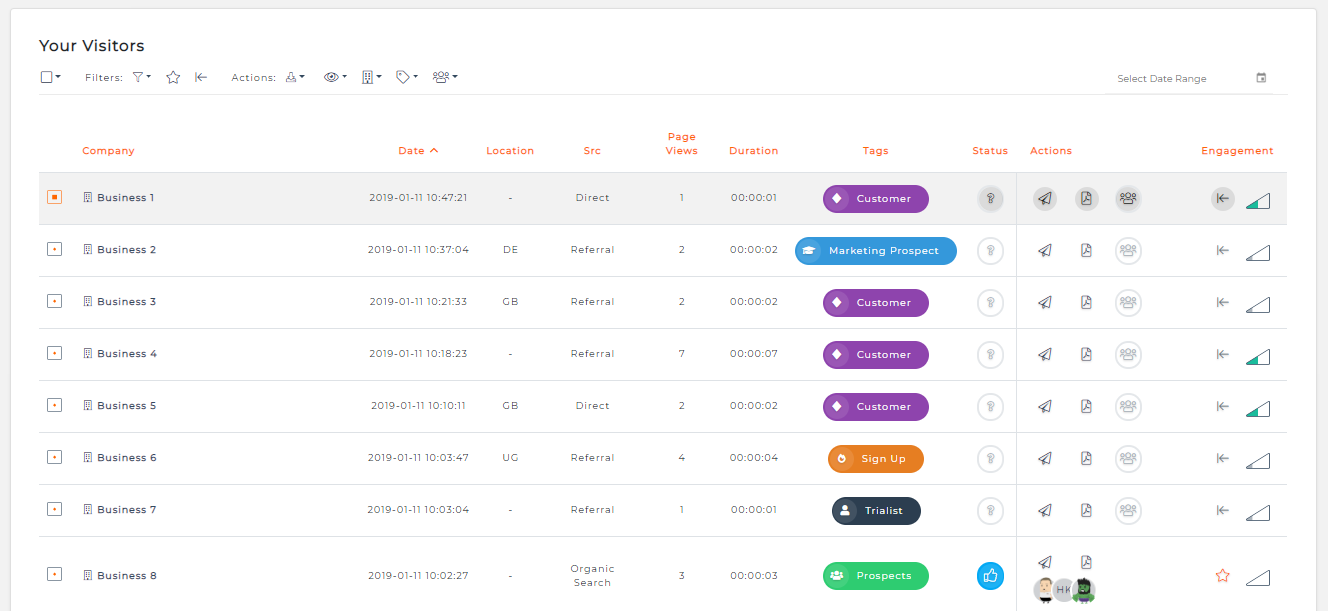 But visualisation is only the beginning.
It is what you do beyond this which creates the unique experience and therefore leads to greater value added.
Whoisvisiting, when used intelligently, can help your business identify lead generation opportunities, highlight where to focus your marketing efforts, and ultimately assist you to make important business decisions for progressive action.
There are four main components of the Whoisvisiting platform
Data Collection;
Dashboard Organization;
Reporting Configuration;
Follow-up Strategy.
Data Collection
The quality and relevance of the data which you can capture is influenced by the marketing activity which you are implementing to drive traffic to your website through the following channels.
The quality and relevance of the data which you can capture is influenced by the marketing activity which you are implementing to drive traffic to your website through the following channels.
Paid advertising
Content marketing
Search engine optimization
Email marketing
Social media marketing
Referral marketing
Dashboard Organization
Optimising your Whoisvisiting dashboard to ensure that it is compliant with the way your business operates.
Creating new users
Categories
Reporting Configuration
Allowing the data which you collect to filter into the most appropriate direction in an automated way.
Follow-up Strategy
These are some of the ways which you can re-engage website visitors who have displayed an interest in your product or service but have yet to convert.
Email outreach
Phone call
Social media
Direct mail
Retargeting
Whoisvisiting as a tool does not know the nature of your business, it only provides insights.
Therefore you need to make it synchronised with your own industry and organisational structure to integrate it correctly.
Here are a number of ways in which you can make the tool functional with your business and focus on what your needs are from the platform.
Creating New Users
Whoisvisiting allows you to add unlimited users.
Therefore, you can allow every relevant person within your team structure access to the dashboard in order to utilise the system for whichever purpose.
It is important that you get your users set up correctly for ongoing progression with the tool.
For some businesses, it might be more efficient to nominate one individual to control the management of the visitor table and the distribution of the leads and opportunities within that.
It will depend on your own business working structure and the follow-up process which you decide to implement.
You could alternatively select specific permission levels to organize the management to an even greater point of detail.
This will be required for each user which you want to be able to log in, receive reports or is ultimately part of the wider sales process.
Categories
Every business uses categories differently in application to the nature of their own organisation and how they are using the Whoisvisiting tool in general.
Using categories is a way for you to customise the Whoisvisiting dashboard in sync with your specific and unique business needs.
This allows the selected user(s) to quickly visualise the situation of the dashboard and manage the follow-up stage accordingly.
These can be created in your settings and customised with a Category-Specific Colour and a Category-Specific Icon.
These categories could be anything relevant to your prospects, customer base, sales process, lead management, or working environment.
From here, companies who visit your website can be assigned to a particular category for greater clarity and organisation going forward.
This cleans up the 'noise' of the visitor dashboard and allows you to prioritise, delegate and to get directly to the new or more important information a lot faster.
Creating a process around the allocation of category assignment is important to ensure you are consistently keeping on top of it.
Either by creating a rota, a scheduled routine or one person to oversee the visitors.
You can apply a filter to show only specific categories you want to see within the visitor table. And export this into CSV or Excel format for ongoing usage.
Further to this, a trigger report can be created for a visitor who is assigned to a particular category.
This allows you to be alerted to that visitor returning and ensures you will not miss out on that immediate development.
Trigger Settings
Tracking pages and creating trigger alerts for what your business considers to be the most crucial website visitors and journeys is a brilliant way to pre-qualify visitors to specific areas of the website and access the relevant leads.
The first task you will need to complete is to set up Tracking Pages.
These are on-site pages that are automatically tracked from the date they are created, they can then be filtered by on the Visitors page or used as trigger conditions.
The four types of criteria are as follows:
Exact Match: Enables you to track the individual page matching the exact URL entered.
Contains: enables you to track a range of pages instead of just one, grouping by less-structured URL elements or key-terms in a URL.
Begins-With: enables you to track a range of pages that meet your criteria, grouping by the first variable in a URL's subdomain. This means that the entire sub-categories which proceed the term entered can be tracked.
Ends-With: enables you to track a range of pages, grouping by the final variable in a URL's subdomain.
You can learn how to set these in greater detail here.
Setting up tracking pages and trigger settings will save time rather than manually identifying the stronger opportunities.
This can then alert the correct person within your organisation who looks after or represents a product or service area and can streamline the follow-up approach in an effective way.
Triggers can be made as simple or as complex as you want or need them to be:
Variables include:
This is where you can really bring the product alive in terms of directness and relevance.
Reports
Depending on how your business chooses to benefit from the system, setting up reports enables you to control the data you receive in terms of frequency and detail.
You may be very hands-on within the dashboard, alternatively, you may want to set automatic reports for a concise overview of the information which is most relevant to you as and when is convenient.
Real-time notifications
You can select any of your users to receive real-time notifications sent straight to their Email inbox.
This will notify of a first-time, recognised businesses landing on your website, with the option available to filter by country of your choice.
You can also schedule users to receive detailed reports from the reporting hub within the dashboard.
Here you can create specific reports for each person with full control over the information sent in the report in terms of visitor detail.
They can also be customized in terms of frequency and time to suit your needs.
You will then have access to the full report of that information with all visitors over the time chosen, with the information requested.

Companies by channel
This report allows you to visualise a concise overview of the source which your website traffic is coming from.
This is helpful from a marketing perspective to see which campaigns are taking effect.
Further to this, you can download the data and use it combined with Google Analytics information to gain insights into conversion rates.
What's included in the 14-day free trial?
With a workable level of traffic being driven to your website and various landing pages, it is time to set about how to action this into sales using Whoisvisiting.
Configuration Tips
Add all sales members to the platform as users.
Set up a tracking page for the key areas of your website which you would qualify interest by: Products, Services, Pricing, About us, Contact us;
Apply each sales member with a 'real-time and daily' trigger report connected to the page(s) which comes under their sales remit or job responsibility.
Give each user their own color to add custom categories in the visitor table to the businesses who have triggered their specifications: Competitor; Customer; Lead; Alternative category relating to your business process;
For each day of your trial, order your visitor table by 'page views' and 'time spent' to identify the most-engaged website visitors and export this as a CSV for ongoing use.
Ensure the top companies have been actioned into your sales pipeline and categorized for monitoring purposes.
Your sales members now have a stream of leads to follow up with through the feeding of visitors via real-time and daily reports.
With the upkeep of an organised visitor table, you will be in the best position to take advantage of businesses showing interest as efficiently as possible.
Keep reading: How To Close A Sale With Whoisvisiting Software
Best Practices When Using Whoisvisting Tool
Dealing with the amount of information that Analytics tools such as ours provide can be a little overwhelming.
For this reason, it is so important to know exactly what your objective is with this data collection and, mainly, how to organize it.
Below's a quick guide on best practices for making the most out of your B2B website data:
1. Set your preferences
Be sure to set your preferences correctly so the correct person within your company is receiving the correct leads.
Also, be sure to confirm whether you're looking to receive real-time leads or reduce the frequency to daily, weekly or even monthly depending on the nature of your industry.
If you're integrating Whoisvisiting.com data into a third party application such as SalesForce or Microsoft dynamics (or an alternative) check that everything's up and running and runs seamlessly for you as a user.
2. Segment your prospects
You're now ready for your company prospects to start feeding into the system.
Again dependent on your industry and company these may be coming in thick and fast or a slow and manageable trickle.
Either way it's an extremely good practice to ensure that you segment your prospects in Whoisvisiting.com by categories.
Some customer segments will be simple and will simply be customers, competitors, prospects and others, whereas others will be more complex and potentially broken down according to account reps or other.
It's advisable to maintain a structure that your company is familiar with and not reinvent the wheel where unnecessary.
3. Research, qualify and contact your prospects
Each lead can be extremely valuable. It's important that you do your research on the companies supplied by whoisvisiting.com.
If the companies moved addresses or they've introduced a new telephone number for the department you need to contact, update it.
Finding the correct person: use the company data supplied to find the correct person. Every customer is targeting different people within a prospects organisation.
Use Linkedin and search ['Company Name' + 'Job Role'] within the search box. This will deliver a list of potential individual prospects that you need to speak to.
Qualify the contact details: check off the company data supplied with referencing their website and Google Maps.
You can find out if there is any further information around the company that enables you to be more efficient in your approach to contact.
Whilst telemarketing is a hard task, it can be extremely effective if done correctly.
Search for their email address: google's a great tool and performs extremely well. In some cases you'll be able to search for the exact person's email address you're looking for.
There's an extremely fine line between spam and sending a qualified introduction to your company so be sure to contact your prospects in a courteous and respectful manner introducing your services and politely requesting contact.
You're now in a strong position in terms of building yourself the warmest possible pipeline of prospect companies.
Companies who have visited your website, identified, and know your brand and will therefore be familiar with your company.