For marketers and professionals, an email address is a piece of essential information not only to create a relationship and engage with leads but also to allow progression for logistics, prospecting, sales, or general business inquiries.
It is a crucial form of outreach and communication – an email address can open doors to huge opportunities and new business.
Without it, you are falling behind others and their progressive and accurate communication movements.
There are various tools, systems and algorithms out there which can assist you in obtaining a list of email addresses in order for you to outreach and deliver your necessary message, successfully.
We have concluded many of the best email identifier tools available and tested their results in an elite study.
Along with this, we have listed the alternative manual ways you can explore to get hold of those addresses, if these tools are unavailable or out of your budget. Enjoy it!
What we discover from our study and you should know
We used the data of 100 business emails addresses targeted in our everyday prospecting and marketing outreach.
All of that 100 emails were qualified to be correct due to accurate and real, human-response.
Here is the breakdown of demographics for the email address data of 100 people which we tested in our study of the tools:
We have tested the following tools and their unique functionalities of:
Provide the email address of these individuals;
Record the results and the success rate.
We have also analysed the variables such as usability, additional features, pricing and access contexts for a full overview of effectiveness and practicality.
All offer extremely similar processes and layouts. However, there are slight differences in search technique, data quality, usability and functionality extensions.
Therefore, Whoisvisiting's verdict will take into account a combination of:
Test score success %;
Feature availability;
Cost-per-credit;
User Interface experience
And also consider the intention of the tool itself.
Important to note: To ensure the most reliable results possible, all emails were discovered via manual search, due to complications and differences of formatting upload (if bulk upload option available).
Before you dive in, click here to download your free results spreadsheet. The spreadsheet will give you a complete feature and identification overview of each tool's results to help you analyse the best product for yourself
Here is a list of 7 tools to find anyone's email address and our review for each one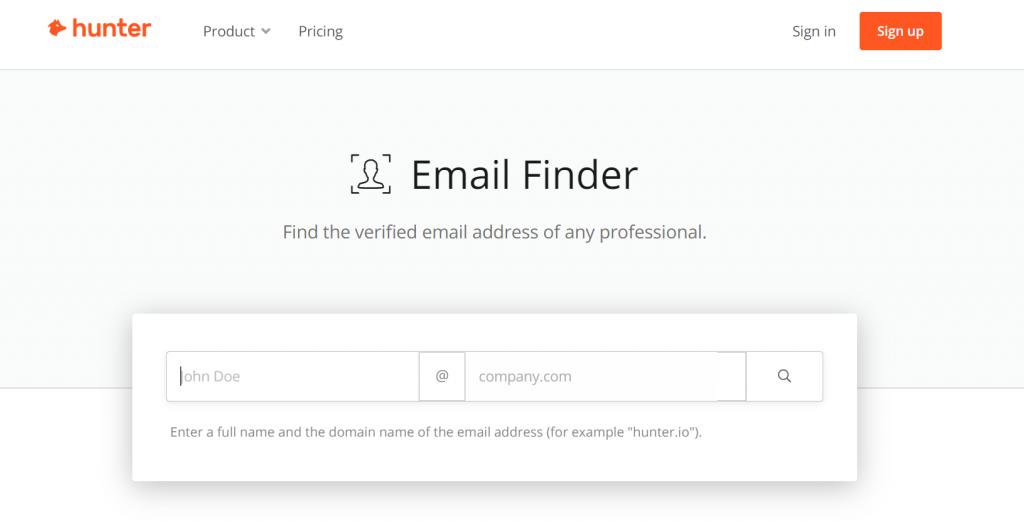 Email Hunter is a popular and logical service which offers a simple solution for accessing the email address of an individual.
Email Hunter is a popular and logical service which offers a simple solution for accessing the email address of an individual.
How the Email Hunter works is by crawling the web to obtain all of the publicly available email data and storing this.
The tool will then inspect the company domain of the identified target.
Returning to the Email Hunter database, the tool will match up the pattern closest to the one most frequently used by the company.
Furthermore, the identified address will then undergo Simple Mail Transfer Protocol, in order to verify that the email is perfectly legitimate.
Additional Features:
Email verifier Bulk search Google sheets add-on Connected applications – Sales force, Pipe Drive, Hubspot, Zapier, Zoho MailTracker – find out who opens your emails LinkedIn lead listing API / Docs
Free Trial Credits:
150 free searches/month, forever (non-rolling).
Pricing (billed monthly):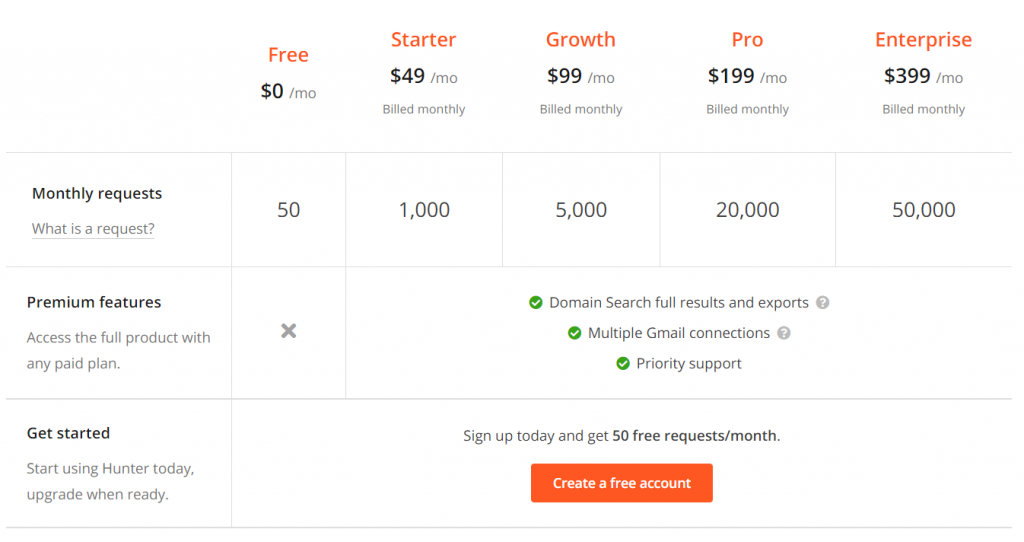 Email Test % Score: 63% success
Whoisvisiting Verdict: 9/10
Though the test results from the Email Hunter were slightly underwhelming in comparison to the other tools, it's wide range of functionalities (including mail-tracker, Google sheet add-ons and numerous integration options).
All combined with a friendly user-dashboard and straight-forward email identifying service, with no guesswork involved, qualifies strongly as a seriously effective tool.
With an extremely generous 150-monthly credit access free of charge, overall it is a tool we would certainly recommend.
***Email Hunter has since announced that it is shutting down the LinkedIn integration***
Vocus.io is a Chrome extension which brings insane productivity to Gmail. It is a tool which allows email prospecting but offers so much more value in terms of productivity and accessibility.
Vocus' simplicity, clean usability and majorly effective all-in-one extension tools makes it an ultimate email tool at a remarkably reasonable price.
Email prospecting may not necessarily be the primary function of this platform but it is still a valuable addition. It also allows you to search by full-name and domain.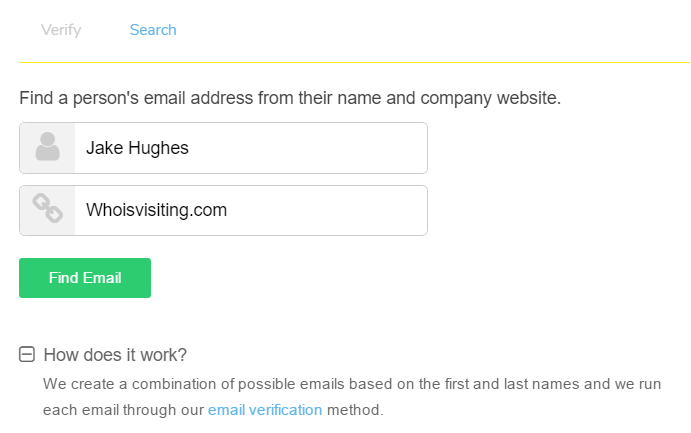 Displays verification process, providing optimum email solution.
Vocus may be unable to verify a particular domain specified because it has a 'catch-all' flag enabled. This means that it will respond positively to every email address test and therefore redundant.
Additional Features:
→ Tracking – Find out who and when a person has (or has not) opened your mail delivery
→ Snippets – Create bulk text templates which appear when triggered by a keyword
→ Follow-ups – Create automated custom cadence follow-ups
→ Send later – flexible send-later email functionality
→ Reminders – Add personal note or 'bump up' mail in your inbox
→ Mail Merge – Send hundreds of personalised emails in no time at all
→ Coordination – Shared calendar invite Integrations – SalesForce, Pipedrive, Auto BCC, Zapier
Free Trial Credits:
30-days free-trial (Three email prospect credits daily)
Pricing:
***Charged monthly, so you can cancel anytime including all above features***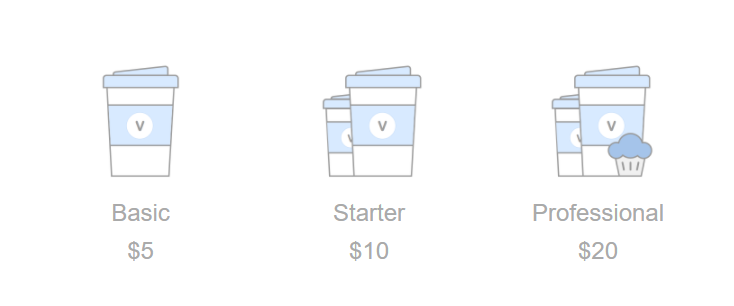 Email Test % Score: 75% Success
Whoisvisiting Verdict: 9/10
We think that Vocus is a wonderful toolbox which we would recommend without question.
We are not here to judge a fish on its ability to climb a tree and in this case, Vocus.io is not meant to be a hardcore bulk lead-generation tool, but more about targeted outreach.
Despite this, you are equipped with 20 daily prospecting credits, for such a minimal fee (both packages), working out at an excellent cost-per-credit value, with the potential to enhance your outreach strategy through structure and productivity.
After creating an account with VoilaNorbert tool, you will receive access to its user-friendly dashboard where you enter a person's name in one box and the company domain in the next.
Norbert then works to find the result.
VoilaNorbert does not over complicate the process and allows you to achieve stress-free email addresses of individuals stored presentable and accessible for use.
It must be noted that it does not check for catch-all addresses, therefore it restricts the amount of requests which you can make (SMTP servers can block the service if sent too often).

Once VoilaNorbert has identified your intended receiver, it will pull their additional information in a presentable profile.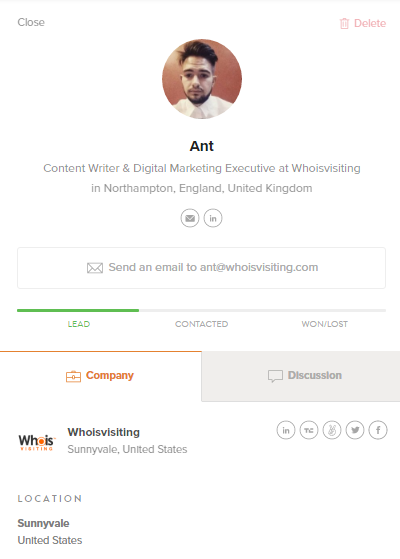 You can then send them an email straight from the Voila platform and your own dashboard.
Additional Features:
→ Chrome extension
→ Bulk upload
→ API access
→ Zapier integration
Free Trial Credits:
Get 50 leads for Free – only found emails are charged as a credit
Pricing:
***Monthly (cancel your package at any time) or yearly with 20% off ***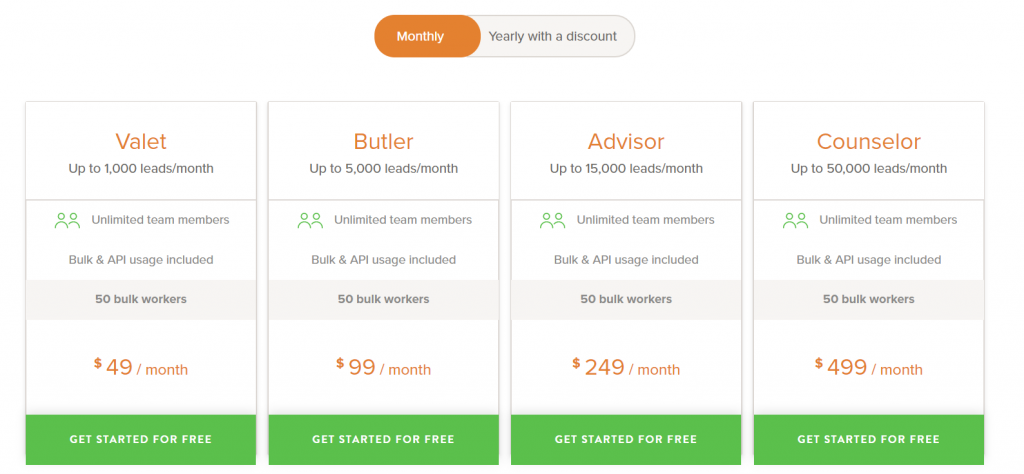 Email Test % Score: 92% success
Whoisvisiting Verdict: 9/10
Norbert has produced an extremely respectable and accomplished email finding tool with strong results and non-complicated proceedings.
Though it lacks a lot of the major integrations, many are incoming soon – the API is simple to integrate and is fully-documented.
The pricing is of the standard competitiveness but Norbert excels due to the fact it offers a pay-as-you-go credit service, which doesn't expire, along with only charging per successful emails found.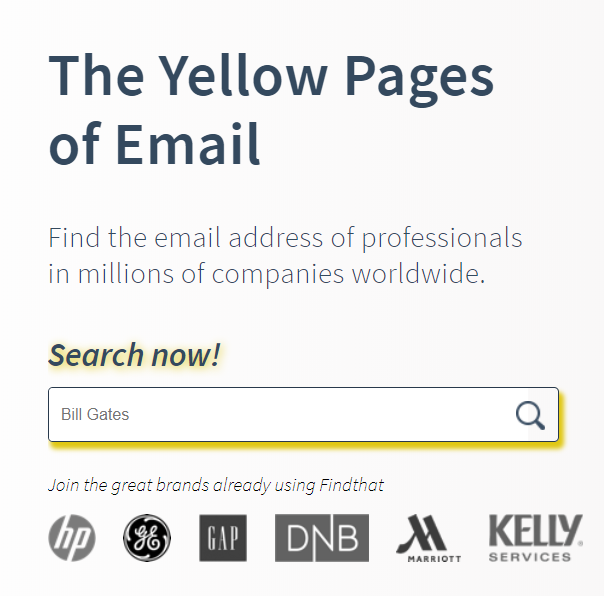 Using cross-checks and data analytical algorithms, 'A modern day Yellow Pages' – Find That Email, will allow you to search for and then gather the business email address of whom you wish.
And all you have to do is enter the name of the individual and then the company.
It will even deliver a drop down when searching for a company name of suggestions.
Once you have hit search, it will respond with the email and the confidence % of that being correct. It could not be any clearer.
It will allow you to get the ball rolling when targeting specifically. To avoid any disappointment of any servers which block SMTP verification, the FindThat engine relies on 22 different data-sources.
Additional Features
→ Chrome extension – With Ahrefs integration
→ Bulk upload
→ Domain search – unavailable with free package
→ SalesForce, MailChimp, Zoho and Pipedrive integration
→ API access
Free Trial Credits:
50 Search Credits, monthly
Pricing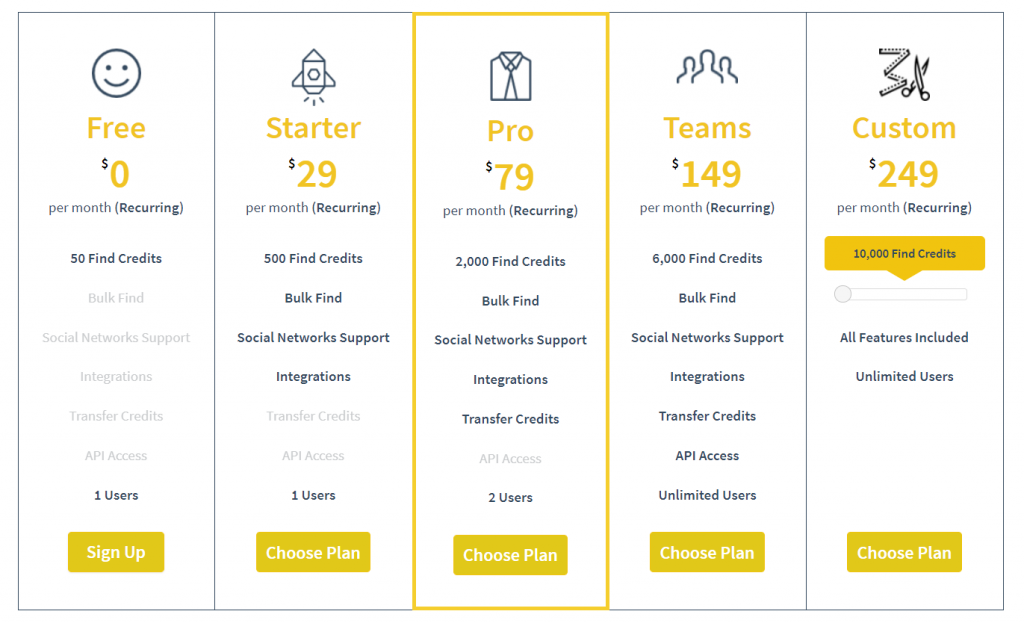 Email Test % Score: 88% success
Whoisvisiting Verdict: 8/10
The visually pleasing nature of this website is a huge bonus because it is clean and very user-friendly for usability.
The addition of Ahrefs in the Chrome extension is a unique and useful addition.
Overall, it is a consistent email identification tool and verifier with a slightly higher cost-per-search from its starter package.
You must also subscribe for access to domain search and integrations and to the highest package for API access.
For occasional email grabbing it can be a successful 'go-to' for an individual identification, again showing consistent results via the algorithm.
Toofr provides its own unique algorithm to discover email addresses and the overall functionality is extremely convenient, with features such as company name search rather than specifically domain requirement.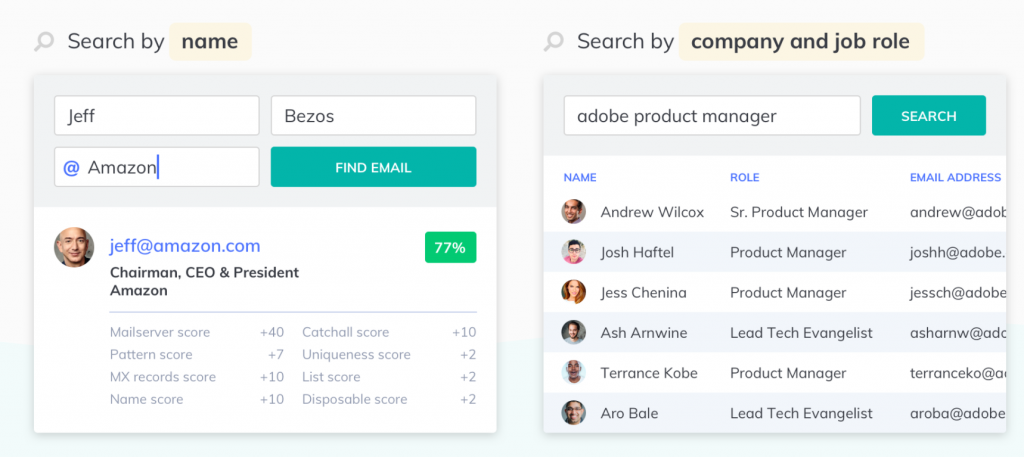 You are able to search for email prospects via the database individually or a specific domain.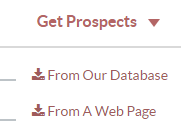 You can also access the profile data (title, headshot, profile URL) for one more credit. There is a verification email tool.

Additional Features:
→ Bulk upload
→ Email list purchase – directly buy categorised ready-provided emails for outreach
→ Sales hacker API – language examples in Shell, Ruby, and Python.
Free Trial Credits:
12 credits for free.
Pricing: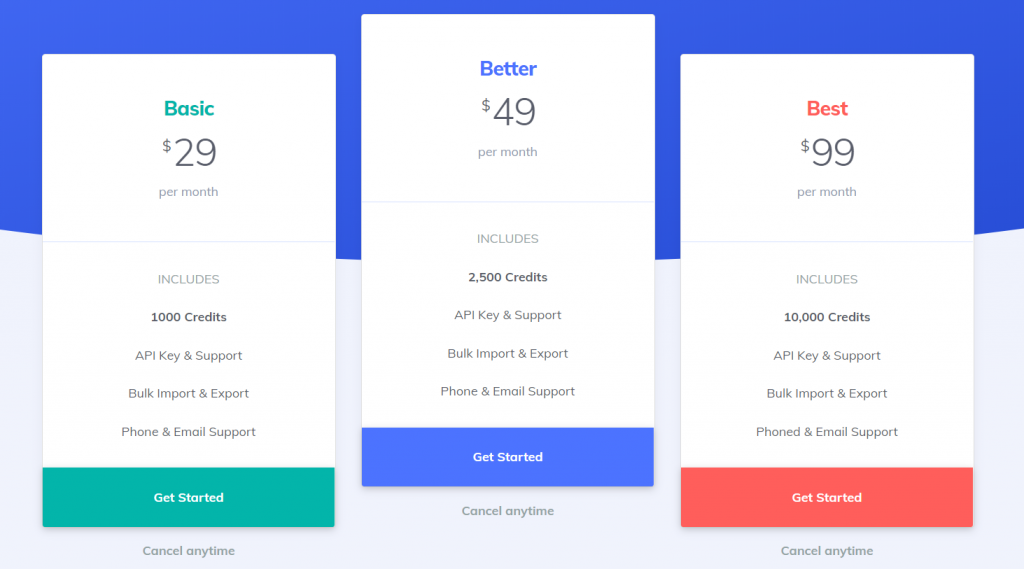 Email Test % Score: 98% success
Whoisvisiting Verdict: 10/10
For bulk email search with the strongest results, Toofr is your recommended tool.
Less so for requests which are few-and-far-between, as it is a powerful system and their prices are optimised to reward seriously bulky uploads.
It is not a particularly flashy website, and it is here to do what it says.
Provide you with email addresses or verification, accurately, regardless of further outreach and integrations.
Though it does make accessible a free API Sales Hacker. It is data heavy, offering purchasable email lists and ready for serious email discovery.
Despite this, its entry package is reasonable enough to use for accurate, small-scale email address generation with a Chrome extension available.
Want to know which email provider will best suit your company? Click here to download the results spreadsheet and analyze the best fit for your company.
Primarily a prospecting tool that allows you to find contact information.
AeroLeads provides the versatility to import your own lists or search using the platform.
Again, it must be stated that this dashboard has the intention of providing further and extended opportunities than simply identifying an email address, but organizes your results tidily and allows for progressive prospecting if that is of value.
Manually upload prospects and obtain their email address amongst alternative contact information including phone number and social profiles before integrating with other platforms.
Additional Features:
→ Buy custom data
→ Chrome extension – add leads to AeroLeads in one click
→ Prospect generation services MailChimp, SalesForce, HubSpot, Insightly, Pipedrive, and Zapier integration
→ API Integration
Free Trial Credits:
10 prospect credits
Pricing:

Email Test % Score: 82% success
Whoisvisiting Verdict: 8/10
Similarly to Vocus, it belongs in the bracket of a tool which does not primarily describe itself as an email identification platform, first and foremost.
Therefore, it would be unfair to mark it with the exact same mindset as some of the other tools.
However, Aeroleads still delivers an extremely capable email discovery tool, but where you can go from there is the beauty of this particular software.
That is why the Take Off-plan appears quite steep for just 100 identifications, but the ability to monitor and organize your leads along with the integrations and prospecting potential is what this price is taking into account.
It's the ability to discover the address of manually uploaded contacts is good and Aeroleads are very flexible with custom packages to suit your needs.
Find That lead makes available a complete dashboard for email prospecting and lead generation outreach and organisation.
A clean and pure back-end panel, including additional tools and lead management, gives you prime functionality for overseeing your contacts.
The Lead Search, like so many of the tools, is a simple but effective function, requiring first name and surname separately, before entering the domain.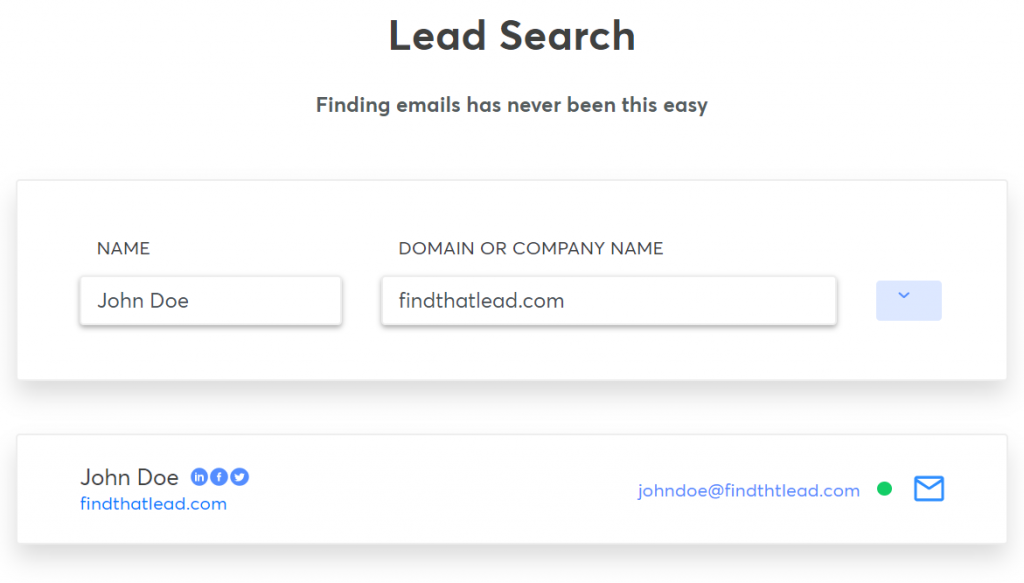 It will return with its best efforts of acquiring that contact.
Alternatively, there is the option of the domain search to find however many emails via a specific company domain.
You can also use the FindThatLead dashboard as an email verifier, in isolation – search for an email to test its validity using the FindThatLead algorithm.
Additional Features:
→ Lead manager – organise the email addresses which you have obtained in the lead management dashboard
→ Chrome extension
→ Find prospects – only available for Suite plan on-wards. It is an advanced search on the dashboard to find emails based on tags (location, job position…).
→ Google sheets add-on
→ Twitter followers – a unique way to extract the data of your own or another account's Twittter following
Free Trial Credits:
10 daily search credits on basic plan
Pricing: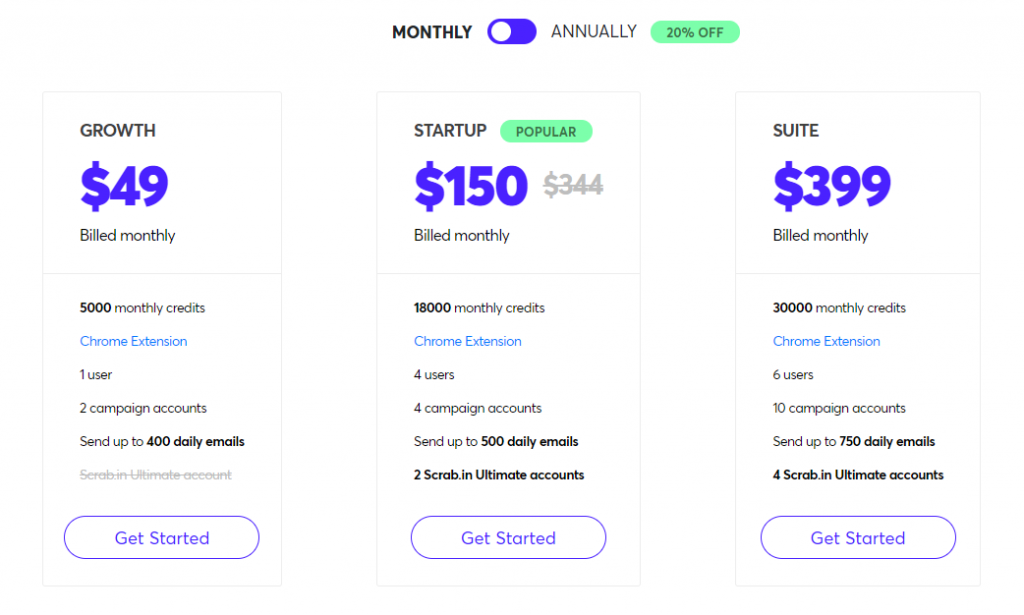 Email Test % Score: 86% success
Whoisvisiting Verdict: 8/10
FindThatLead offers a balance between the predominantly email finding/verification tools and the more CRM-based lead management systems by offering dual functionalities.
With a strong email search tool and chrome extension along with the domain search and verifier, it also includes a prospector (for the $399 monthly package on-wards) and lead manager.
There are no direct integrations available but FindThatLead does offer a Whois domain lookup option along with the unique addition of a Twitter follower extractor.
The cost-per-credit is extremely good value but it will take credit for all searches regardless of return quality.
A very interesting all-round alternative with competitive results and unique functions worth considering.
What we can tell you about email address find tools
First of all it is clear to see that these are a range of very capable and useful tools which all provide a quality level of service and results.
It must also be reiterated that not all of these tools are necessarily built with the intention of providing you with an email address, and just because they are capable of that, doesn't mean it is their primary concern.
However, all of these software tools, in their own way, will try their best to get you the email address which you want.
Which is the best for you will depend on your own agenda and whether you are looking for a quick win, a larger-scale discovery tool, or one with the most productive follow-up and outreach features.
Therefore you must establish this yourself, before identifying which will be the best for you in terms of efficiency.
Again it could be a case of utilising the free packages as and when needed and subscribing to one specifically for x reason or x feature.
It would be advisable to take advantage of the free trial credits which all offer to some extent, and familiarise yourself with the dashboards to get the best feel and only then can you confidently qualify.
Ultimately, all of these tools have provided extremely good quality results in terms of email address finding between their catch-all functionality, guesswork algorithms and SMTP handshake procedures.
Hopefully, you will have a clearer pathway of obtaining the contact you need.
Manual alternatives to these fantastic tools which you can also try
Twitter search
Using Twitter's advanced search, try looking for "at" and "dot in the 'all of these words' section. This would be including the @ of the specific person in the, 'from these accounts', option.
The reason being, people may have documented their address in this format in the tweet history and this will bring it up for you.
Allmytweets will allow you to view the history of an account's tweets where you can perform a control search instantly.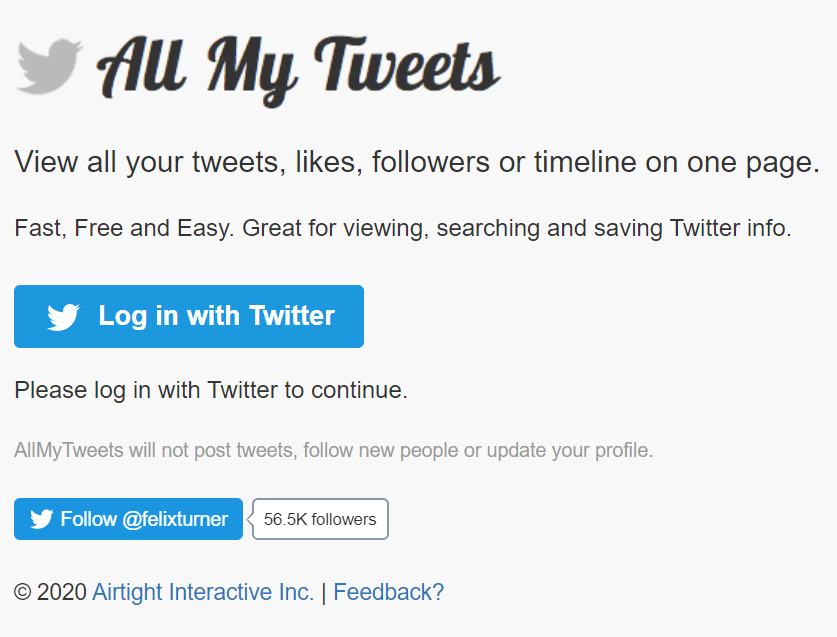 Twitter DM
Sending a tweet to a specific person and then following up with a direct message asking for their email is a direct approach of contact.
LinkedIn
LinkedIn is the hub of business profiles where it is possible to find who you are looking for and many people will openly display their contact email.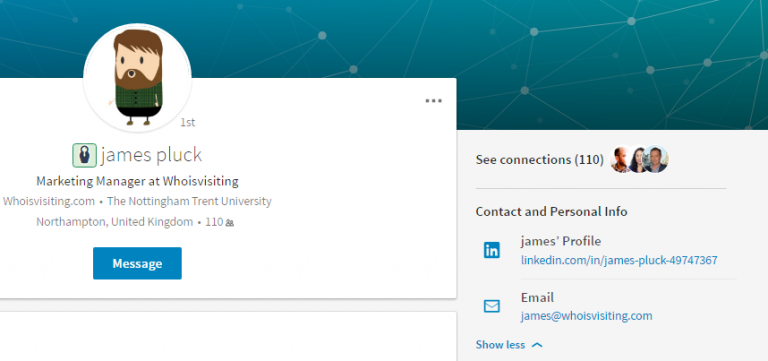 Google Search Operators
Using a search engine to try and identify the email address of a particular individual is an old school but still useful way, however it will vary on the name's commonness as to how achievable it will be.
A basic search engine email address query will follow this pattern – [name] + email (or) email address [name] + contact (or) contact information (or) contact me.
Another option would be to use the 'site:' technique to attempt to pinpoint the correct address. site:companywebsite.com + [name] + email site:companywebsite.com + [name] + contact Further to this, for more specific detail, you can include variants such as – [name] + "home town" [name] + "company they work for"
Facebook
Although Facebook is not a professional form of social media, it is still well worth browsing to see if an email address is accessible.
It may not always be a work email, but still a way of getting in touch and trying to get the work address.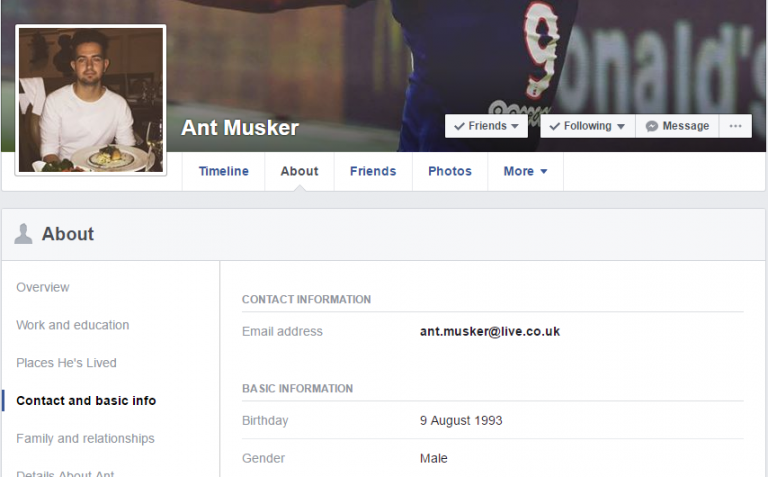 Manual guess and verify
Emailgenerator.io will give you 50+ email guesses based on your data inserted (first name, surname, domain) which you can take and find verification for using alternative tools or cross-referencing with email-format.com.
It also attempts to find the email address format patterns of company domains.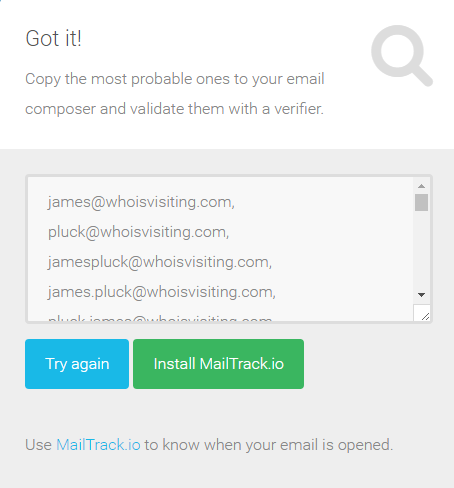 If you have any further tools or ideas which you would recommend, please share in the comments section below!