Twitter Advertising
A fast, cost-effective and creative way to drive some relevant traffic to your website is through Twitter Ads.
This can feasibly be set up and running within an hour and it doesn't matter if you do not have an established or active Twitter business account.
If you do need to set up a Twitter business profile,
start here.
Once you have logged into your Twitter account, access your
Twitter Ads hub
from the menu dropdown.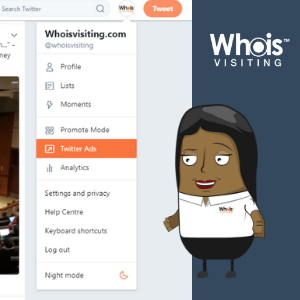 Then select to launch a
Twitter Ads Campaign.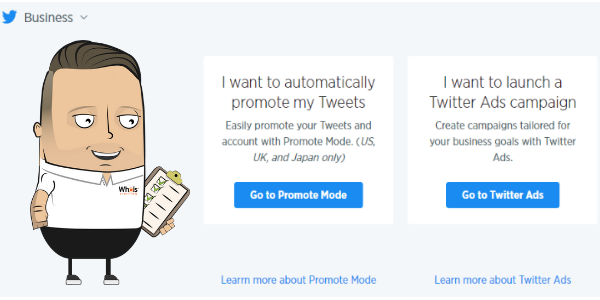 At this point, you will need to select the campaign objective. For this case, it will be
'Website clicks or conversions'.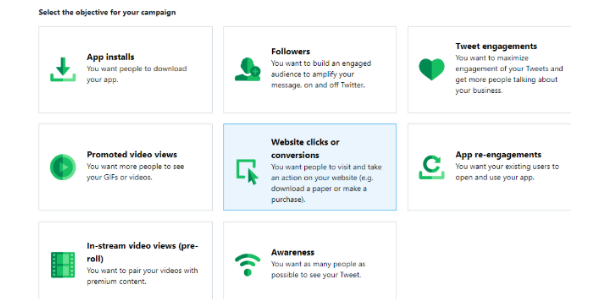 Adverts follow the framework of:
Campaigns -

Relating to the overall objective

Ad Groups -

Different variables targetted within that project

Creatives -

The specific posts, messages and images used for promotion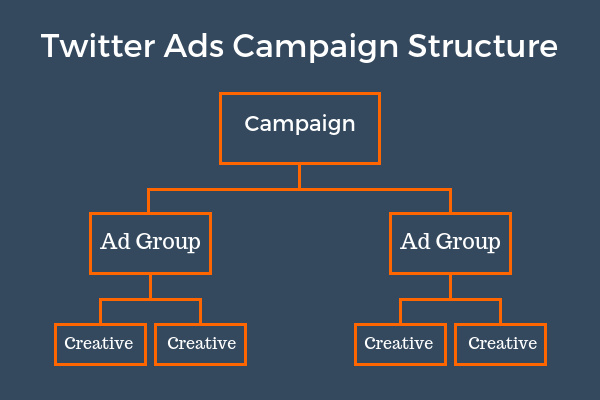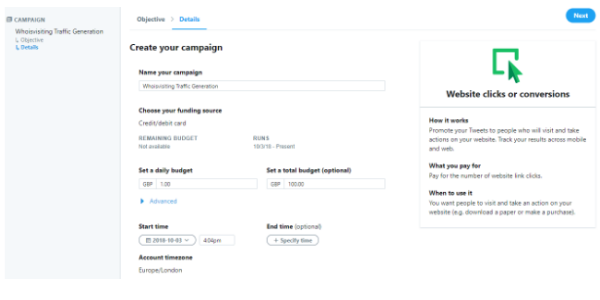 This is the top of the project, where you will branch different Ad Groups and creative posts from.
You can create as many campaigns as you want. You may even choose to create campaigns based on specific variables such as keywords, locations or lookalike followers.
Or specifically, name it for the purpose of this experiment -
Whoisvisiting Traffic Generation.
Set a total budget and divide it by the 14 days (of your trial) to give you a daily spend. This can be altered going forward.
The beauty of this advertising platform is that
you are only paying for the website clicks which happen.
There is no charge until something is actionable. And all impressions beyond this are free, including traffic from your Twitter bio.
This can impact on your followers, brand awareness, branded search terms and direct traffic.
Your Ad Groups are the different categories of target who you want to see your messages from within the overall campaign.
Again, you have the freedom to create as many Ad Groups as you like, depending on how broad or specific you want to be.
Prioritise and shift the ratio of your overall budget by placing a chosen amount for your individual Ad Group.
Further to this, there is an option to set the maximum bid per link click. You will then be in full control of the cost-per-click.
These may need amending based on the competitiveness of the target you have selected and the level of visibility you want. It is essentially trial and error until you find the ideal balance.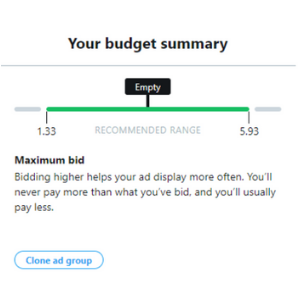 It will then bring you to the creative section for this Ad Group.
It will give the choice to select a previous Tweet for promotion or build a new one purposely for this campaign (reccomended).
Compose and create with 'promoted-only' tweets so that you can experiment and the posts will not fill your timeline.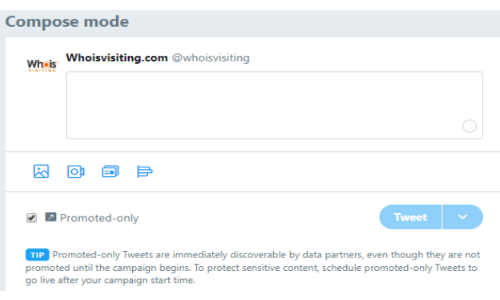 Attach as many styles of creative to your Ad Group as you wish.
Testing different messages with various images. You must also include your website or chosen landing page link.
Marketers may be keen to build these links with URL parameters to track the success of different Ads if you are looking to implement a successful Twitter campaign longer-term.
Now begin targeting businesses based on the following audience features:
Demographics
Location
Language
Technology
Events
Behaviours
Interests
Conversation topics
Follower Look-alikes
Keywords
Discuss internally and find out which of these groups will remain constant and which variables you want to test alongside it.
For example,
you may only want to target the United Kingdom, but different Keywords from this location.
Alternatively, you might only want to target a specific keyword, but test its success from the United Kingdom, Ireland and the United States.
For fast setup
you could choose to target:
x1

Competitor lookalike

x1

Industry influencer lookalike

x1

Similar product or service lookalike

x1

Relevant keyword for your business

x1

Interest related to your business
Simply clone the Ad Group, rename it and change what is needed. Ie: Competitor lookalike (United Kingdom).
Now you are set to review and
launch your campaign.
Monitor the progress, traction and spend in the Ads Manager where it allows you to view the analysis including impressions generated by time, link clicks, results rate % and the pacing of the campaign for the day.
With this new traffic incoming to your website, alongside the alternative organic, direct, social and paid marketing which may already be in place, it is time to action your data into potential sales value using our tool.