With over 1.56 billion users, the social network Facebook has most certainly become one of the most recognisable and well-used platforms on the internet. Since its founding in February 2004, CEO Mark Zuckerberg has developed the brand into different areas with new features constantly being updated.
But for B2B marketers, the question still remains as to whether or not it is actually a proven method with regular and consistent results. Of course for the consumer industry, Facebook understandably is an absolutely priceless opportunity to target customers due to its personal and individual structure. But there are ways to use it in a B2B marketing sense, too. After-all, businesses are still run by people and therefore you are still selling and marketing to a person who is representing 'a business'.
Here are some tips to succeed with Facebook B2B marketing –
Patience
A B2B marketing strategy on Facebook must be approached with the long-term in mind. Though the main aim is to generate leads, it is not an overnight procedure and will take time. Asserting a brand awareness by obtaining shares and interaction without the success of leads initially, is required. Remember, your business Facebook profile needs to be there for access and information first and foremost. It is also important to have 'call to actions' visible on your page along with newsletter sign-up opportunities.

Be Visual
Visual content on Facebook is key to any drive. You want to be liked and shared so to spread as far and wide as you can on people's walls. Video and images are brilliant forms of media to introduce as they are most frequently interacted with. Use Facebook in a structured system to share blog content and educate your following about matters related to your business and services. Then they will likely keep following you for more of the same.
A paid advertising approach will also give you an enhancement in visibility and allow your appearance to springboard not only further, but more targeted. You can always use Facebook's own messenger service to chat with people and be visible that way by answering queries.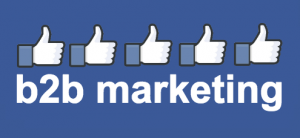 Use Facebook Groups
Joining relevant groups on Facebook can be a way to drive new leads. Many industries, businesses and niches will be found together in private or public groups where you can access large numbers with your content or product. Just search for the keywords which will locate the relevant audience and begin joining them. Many pages will monitor your behaviour so that must come into consideration in the way you approach them. Remember to be more tactical than blunt. You could even create your own group and gradually build it up.

Here are some examples of successful B2B campaigns and pages on Facebook