A comprehensive overview of the limitations when using Google Analytics for Data Analysis and gaining insights. We explore the available alternatives which offer specific solutions and actionable value.
Table of Contents:
→ Google Analytics Alternatives For Data Management
→ Why would you want an alternative to Google Analytics
→ Check these 17 data analysis tools like Google Analytics alternatives
→ How can you use Data Analysis to maximize your B2B Marketing Campaigns
Google Analytics Alternatives For Data Management
If you are looking for an alternative to Google Analytics, this is the right place.
Google Analytics is a powerful data tool used to understand, measure and analyse your website traffic and activity.
As a well-known data analysis tool, it's the go-to platform for new and existing websites to establish insights into how and who is finding your content and what they do when they arrive there.
It holds the answers to so many important business questions we ask about marketing campaigns, conversions, creative process and content performance within reporting segments: Real-time, Audience, Acquisition, Behavior and Conversions.
These categories display many layers of detailed data that can be analyzed and packaged to identify patterns leading to crucial decisions on strategy.
Why would you want an alternative to Google Analytics?
Despite being such a popular and useful source of information, there are a lot of reasons why people and businesses can struggle using Google Analytics:
Too much or 'non-actionable' data
Time-consuming to learn, interpret and implement
Limited integration for a transparent marketing overview
Doesn't provide enough context
Overwhelming aesthetically
Privacy concerns
Google Analytics' data is really useful.
But it may be the case that you are looking to simplify the information which you need, visualize it differently or extend the value of the metrics into something which is a bit more contextual for your industry, job role, or niche.
Often Google Analytics analysis can lead to a lot more questions than answers.
This is not a criticism of the platform, it is just outlining the nature of what it communicates as such an extensive source of data.
For example, from viewing Google Analytics, you now know a page is converting well (if your goals have been set up), or receiving high-levels of unique traffic.
But you may need an alternative data analysis tool which provides an extension to this in order to discover the why – And therefore to make the necessary changes or adaptations.
As ultimately, the aim is to improve performance – not just to be aware of something.
There are many alternatives for data analysis tools which specialise in specific areas of data for your website, app structure, marketing approach or brand perception.
They will be more aligned to help you expand on an insight which Google Analytics has highlighted at the top level, or replace the use of it all-together.
So it's important to understand why you are looking for an alternative to Google Analytics. Or maybe even an assistant to it which creates clarity, productivity or focus.
This will depend on the level of analysis you are looking for – to what scale and resource you or your business possesses and what the end goal is in terms of the action you then take to make improvements.
It will also depend on how you want to utilize the data for sales potential, lead generation, marketing, experience, research, or even a more unique purpose.
The tasks within these roles will require different needs and types of analysis. With the aim to then bring that together in cohesion throughout your business process.
We break down the fundamental components of Google Analytics to discover the data analysis tools which specialize in each area in isolation and may hold value to your business.
Check these 17 data analysis tools like Google Analytics alternatives
Whoisvisiting | Website visitor tracking
FullStory | Digital experience analysis
Whatagraph | Website analytics reporting
Hotjar | Behaviour analytics tool
Oribi | Marketing Analytics
Ahrefs | SEO software
CrazyEgg | Website optimization software
Hubspot | Inbound Marketing Software
PaveAI | Automated Analysis Reporting
Owox.BI | Analytics Cost Data Uploader
Clicky | Website Analytics Platform
Woopra | Customer Journey Analytics
Statcounter | Real-time Web Analytics
Optimizely | Experimentation Platform
Plausible | Privacy Friendly Analytics
Adverity | E-commerce Data Visualisation
Brand Analytics | Social Media Monitoring And Analysis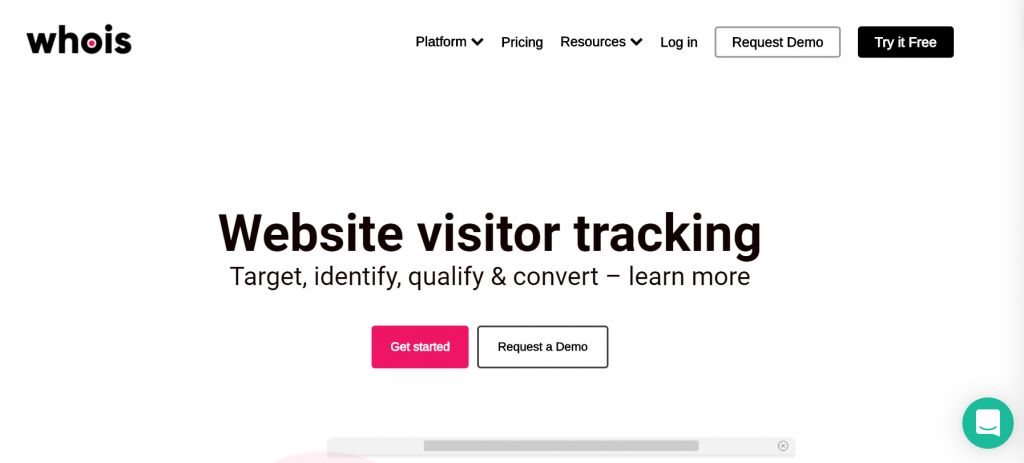 Website visitor tracking is a tool which will identify the businesses visiting your website.
It is a real-time website data platform which provides a  more limited quantity of analysis but intends to generate leads from your website traffic to maximise the potential of marketing campaigns.
By revealing the businesses and contact information behind anonymous Google Analytics metrics, it gives sales and business development representatives tangible leads to follow-up based on predetermined triggers signalling genuine intent.
Key Purpose – Business identification for lead generation
For – Sales representatives (and marketers). Small, medium and large businesses.
Price – Variable on website traffic volume – from $69 monthly
Free Trial – Yes
Keep reading: How does Whoisvisiting work?
FullStory | Digital experience analysis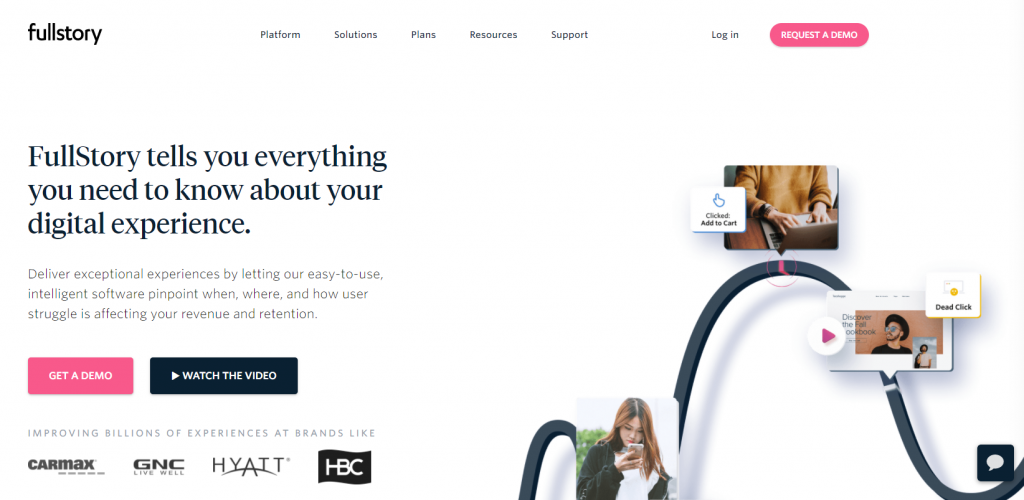 FullStory is an interesting tool which rather than focusing on analytics, metrics and data as such, will show you the journey taken by website visitors on your key pages.
It is a unique way to identify trends, highlight issues, bugs and opportunities by literally watching the visitor activity of each session.
Whilst not all businesses may have the resources to sit through 100's of sessions, the tool can deliver notifications when specific actions are triggered to consolidate the usage.
This can be valuable for comprehensive visualisation when introducing new themes, layouts and launches to ensure everything is optimised smoothly.
Key Purpose – Video event capture
For – Marketing and Development
Price –  Free forever, Enterprise, Business
Free Trial – Yes
Whatagraph | Website analytics reporting
Whatagraph's purpose is to cut through the noise and provide a clean visual platform to report, display and communicate on the metrics which are most important to your business in order to make appropriate decisions.
It uses over 300 pre-established widgets allowing you to build the perfect custom report for your team or clients.
With regards to visualising Google Analytics data, Whatagraph provides report samples for your website traffic, cross channel marketing campaigns, e-commerce reporting and SEO.
Key Purpose – Visually simplified data reporting
For – Social media marketing teams.
Price – Growth ($599/mo), Premium ($239 /mo), Professional ($99 /mo)
Free Trial – Yes, 5-days
Hotjar | Behaviour analytics tool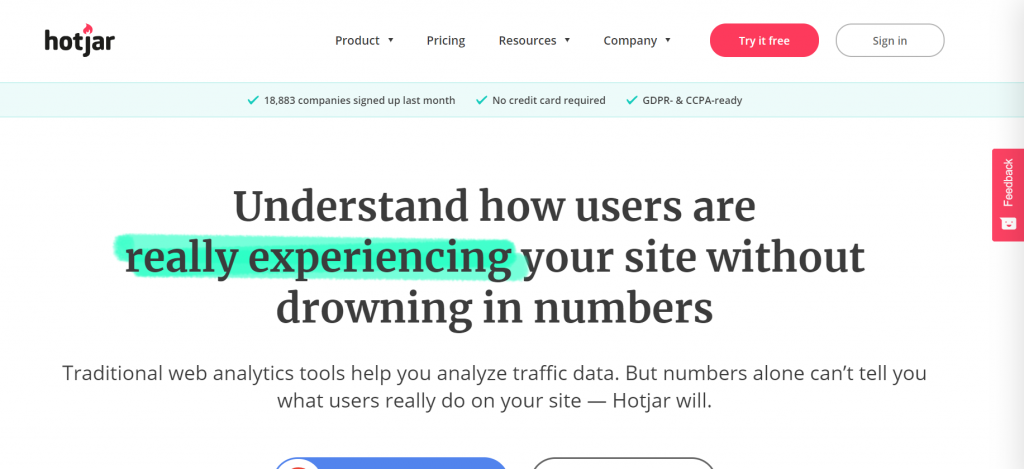 Hotjar exposes activity of website users in a way which bridges both analytics, feedback and experience to deliver important results.
It offers a range of iconic features such as advanced heat mapping, visitor session recording, conversion analysis and feedback tools to collect targeted data.
Hotjar works well alongside Google Analytics to reveal deeper meaning around interactions and ways to solve issues highlighted.
Key Purpose – Improve website performance through stronger conversion results
For – Analysts / Marketers
Price – Personal (€29 / mo), Business (from €89 / mo), Agency (contact)
Free Trial – Yes, 15-days – 30 for agencies
Oribi | Marketing Analytics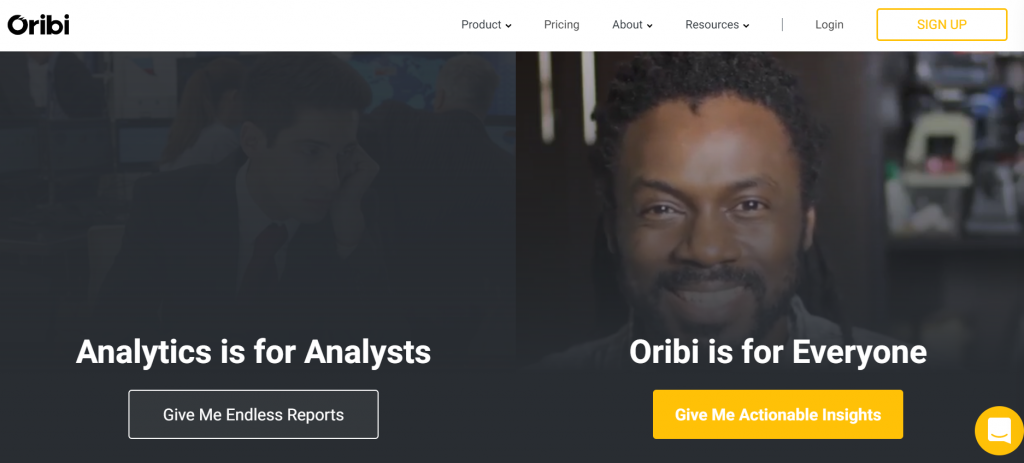 Oribi markets itself as being a genuine alternative to Google Analytics. It's purpose is to simplify the data analysis which is collected and provided by GA and translate it into actionable insights which can be utilised more efficiently.
The key features which differentiate itself from GA are automatic event tracking, individual visitor data, advanced funnels, marketing attribution and correlations.
Key Purpose – Clear campaign and event tracking
For – Marketers
Price – Based on Monthly visitors – Business (from $300 / mo, eCommerce (from $350 / mo), Agency (from $650 / mo)
Free Trial – Try for free
Ahrefs | SEO software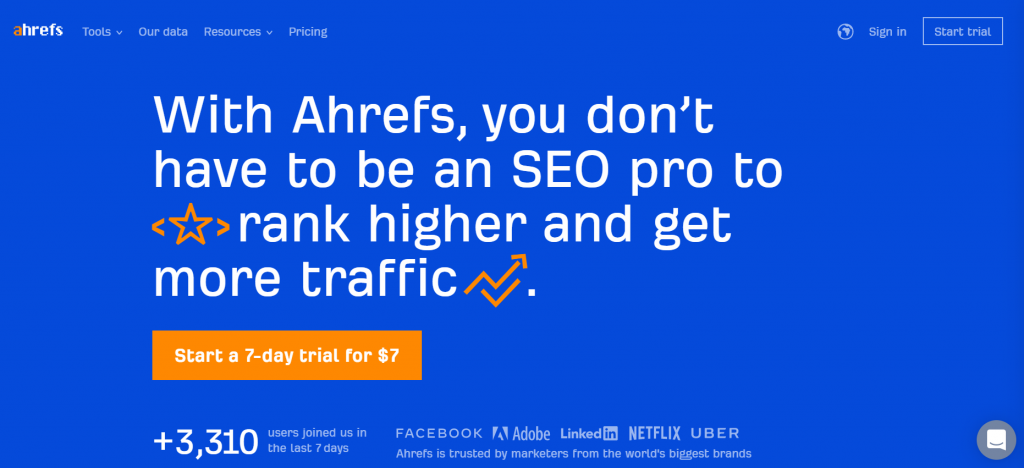 Ahrefs is an amazing software which specialises in analysing website content to help your business performance through ranking intelligently.
Therefore by gaining more website traffic in relevant areas, it can improve your brand awareness and conversions depending on your immediate or long term goal.
The features include a variety of complexities from keyword searching to full site audits.
Key Purpose – Website content analysis
For – Content marketers and SEO specialists
Price – Lite ($99 / mo), Standard ($179 / mo), Advanced ($399 / mo), Agency ($999 / mo)
Free Trial – $7 trial  /  subscribe
CrazyEgg | Website optimisation software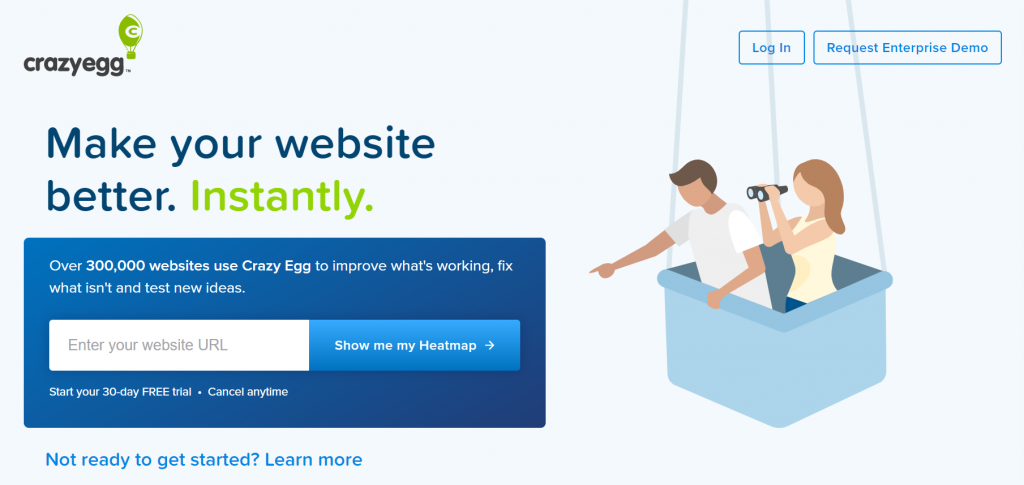 CrazyEgg works to help businesses achieve their goals by providing the pathways to get more sales, subscribers or traffic through optimisation and testing.
It's core features utilise heat mapping, scrollmaps, visual focused reporting and A/B testing to gain a clear understanding of the way people react to areas, content and features throughout your website.
This enables you to make changes based on reliable data to enhance performance.
Again this style of tool is attempting to answer the why and therefore goes a level deeper into a specific area to help contextualise and resolve problems to improve your results.
Key Purpose – Increased website performance and campaign conversions
For – Marketers
Price – Tracked pageviews / mo – Basic ($24), Standard ($49), Plus ($99), Pro ($249), Custom (Build)
Free Trial – Yes, 30 days
Hubspot | Inbound marketing software
Hubspot is an all-in one marketing solution. Therefore it goes way beyond the basic offering of marketing and data analysis which Google Analytics provides and is a completely different beast all-together.
However, built within and amongst its extensive range of intelligent features for sales and marketing are various website reporting tools such as Contact website activity, Smart content and reporting, Full reporting to measure traffic and conversions and also revenue analysis attributions.
Of course the access depends on which package you are committed to and these are available alongside many other fantastic features designed to deliver the ultimate inbound package.
Therefore it may not be practical to pay for everything in-order to receive the analytics access. Or it can be a gateway to benefiting from their complete suite of services.
Key Purpose – Complete Inbound sales and marketing hub
For – Marketers, sales professionals, the whole team
Price – Starter (£42 /mo), Professional (£655 /mo), Enterprise (£2,624 / mo)
Free Trial – Free CRM & Marketing Tools
PaveAI | Automated analytics reporting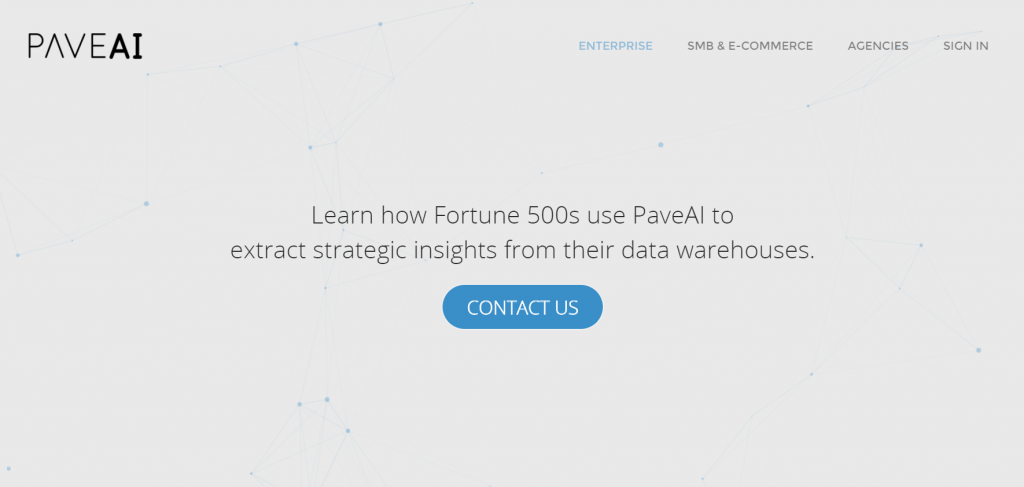 Strategy focused analytics for SMB & eCommerce, Enterprise and Agencies using AI.
PaveAI is designed to transform Google Analytics information into clearer insights offering suggestions displayed through demographic activity, acquisition channel performance and overall trends across certain periods.
It is built to work according to your goals and uses machine intelligence to deliver a data-driven impact.
In addition to this, they aim to improve the accuracy of the data with a referral spam remover which is able to detect and remove unwanted sessions which may influence your overall picture.
Key Purpose – Data-driven insights
For – Analysts
Price – Contact to learn – Enterprise, SMB & E-commerce, Agencies – (from $39 / mo)
Free Trial – Yes
Owox. BI | Analytics cost data uploader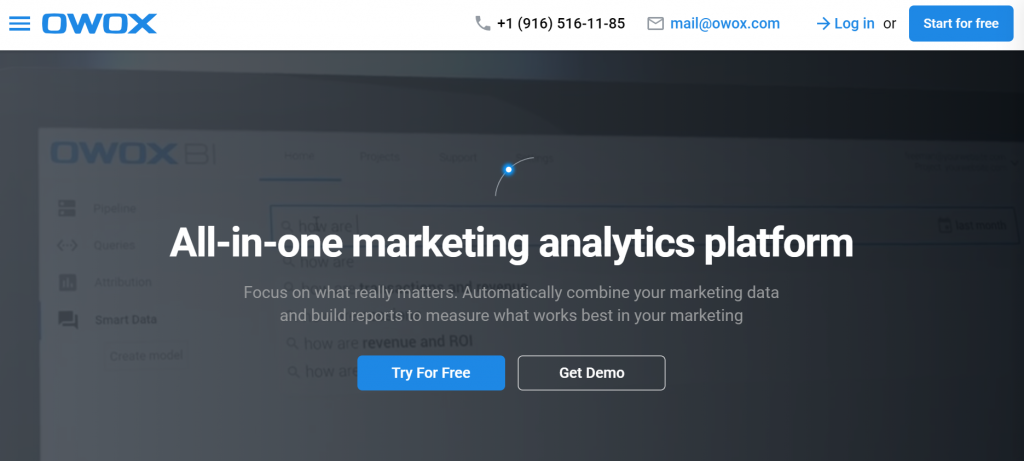 A Google Marketing Platform sales partner – Whilst this is not a direct alternative to Google Analytics itself, it may provide a solution to a problem which in its natural form, GA doesn't offer. Or at least can be a challenge to implement.
This add-on is a simple way to upload cost data to your Google Analytics platform, allowing you to calculate the cost of organic search traffic with greater accuracy.
Therefore it will give your business an opportunity to better manage budgets and allocations towards different areas of your strategy.
Key Purpose – Visualise content campaign ROI
For – Senior management
Price – Marketing data ($55/mo), Reports & attribution ($970 / mo), Enterprise (Contact)
Free Trial – Yes, start for free
Clicky | Website analytics platform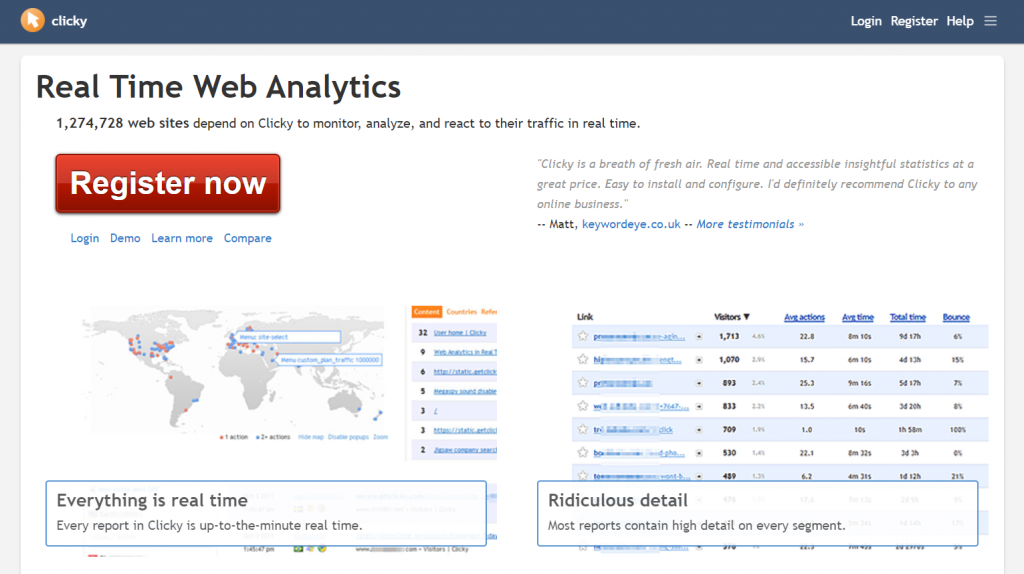 A simplified, professional and practical alternative data analysis tool which delivers a pure experience.
Website data analysed in real-time, with a great attention to detail. It's able to capture individual visitors and the actions they take and works to remove spam and bot data to ensure a clear understanding.
Clicky has an extensive range of features made for professional purposes including video analytics, a built-in URL shortener, Twitter analytics and also a White Label version.
It is a free tool for the standard services up to 3,000 daily page views.
Key Purpose – Professional website analytics
For – Marketers
Price –Monthly – Free, Pro ($9.99), Pro Plus ($14.99), Pro Platinum ($19.99), Custom
Free Trial – Yes, 21 days premium
Woopra | Customer journey analytics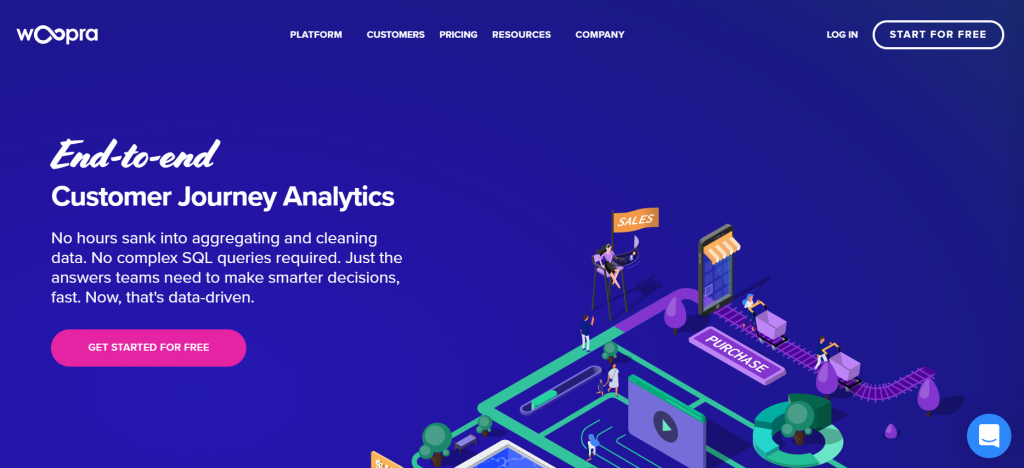 Woopra provides specific analytics solutions for numerous industries including, SaaS, eCommerce, Finance and Media.
The intention is to answer fundamental questions about customer experiences through visualizing the stages at every point of the journey through behavioural segmentation, establishing trends and reporting clearly for action.
Their technology  matches actions with the users and devices to contribute to creating better experiences.
Key Purpose – Understanding user activity
For – Marketing and Sales
Price – Core ($0), Pro ($999 / mo), Enterprise (contact)
Free Trial – Yes, 500k actions /mo
Statcounter | Real-time web analytics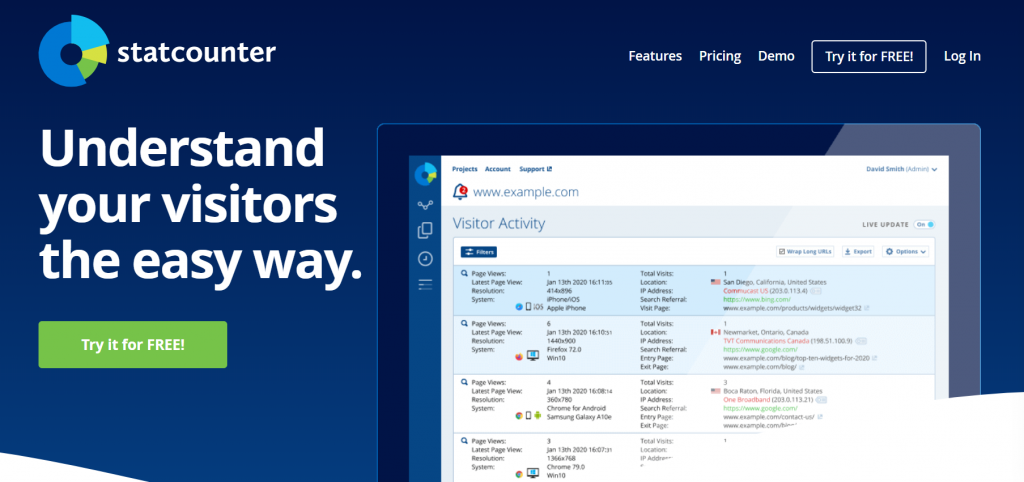 An all-rounded analytics platform which was built on the principles of delivering clear meaning, a quick responding software which is really reliable.
In-depth webstats with practical and contextual features including visitor labels, custom email reports, Google keyword data analysis and a full mobile application.
It also values your privacy and works to detect click fraud when running paid advertising campaigns.
Key Purpose – User-friendly website analysis
For – Marketers
Price – Free, Premium ($9 / mo)
Free Trial – Yes
Optimizely | Experimentation platform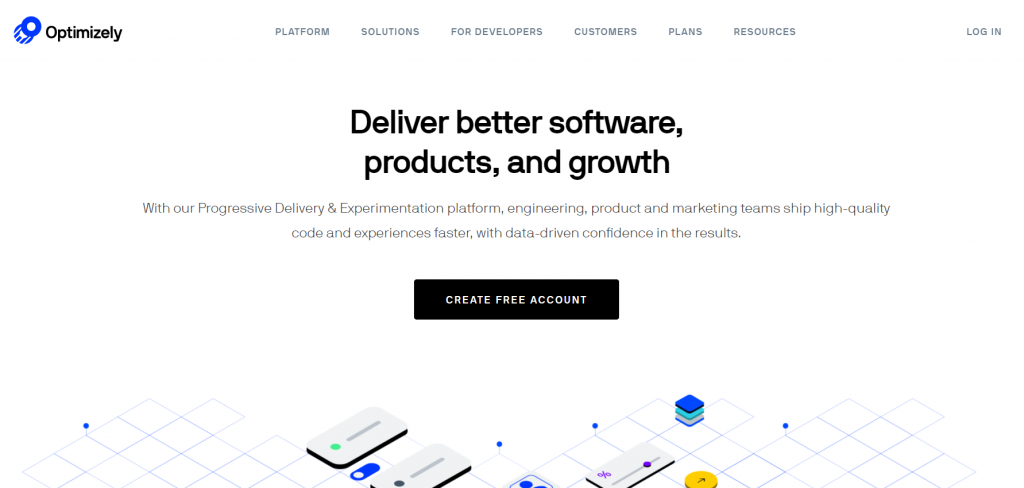 Optimizely has a vast range of features and services that supports large businesses in growing faster by creating complex data experiments which open a gateway for discovery.
Their solutions are designed for marketing, product, engineering and data teams across multiple industries. Their platform also caters for developers.
Optimizely features include feature management, implementation, launch experiences, results and targeting.
Key Purpose – Large scale website, app and product experimentation
For – Marketing, product, engineering, data
Price – Rollouts, essentials, business, enterprise
Free Trial – Free Account
Plausible | Privacy-friendly analytics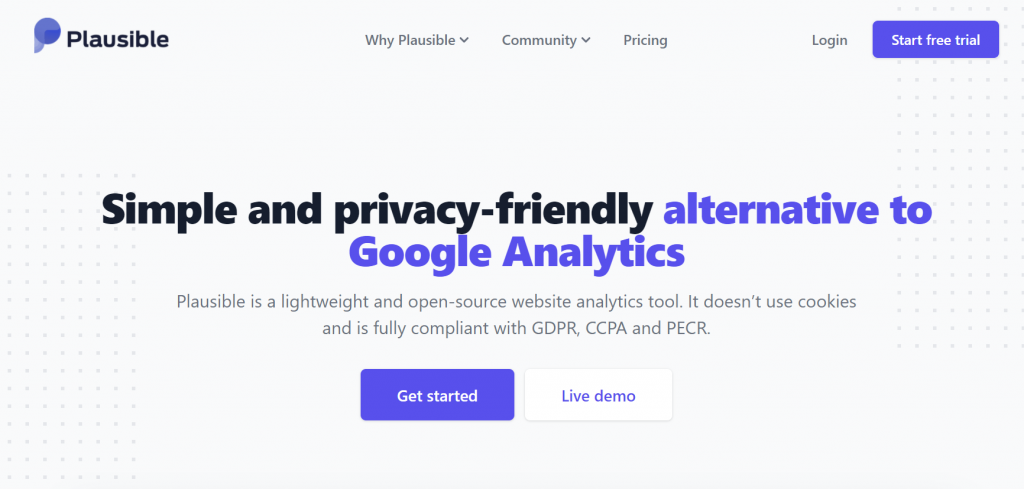 Plausible pride themselves as being a simple alternative to Google Analytics which collects the data you need in an ethical way.
It's an open source web analytics platform displaying web statistics at a glance with speed and convenience their priority.
By using this analytics alternative you do not need to disturb your visitor experience as it's fully compliant with privacy regulations.
They have a public roadmap which is driven by their community in terms of features and design.
Key Purpose – Privacy friendly analytics
For – Website owners, freelancers, agencies
Price – Monthly – Personal ($6), Start-up ($12), Business ($36)
Free Trial – Yes, 30 days
Adverity | eCommerce data visualisation
Adverity insights works to transform unorganised data into a visual platform to discover results with data management.
The dashboards are designed to showcase the transparency and accuracy of hitting your KPI (Key Performance Indicators).
The data can be used to understand campaign delivery, consumer patterns, calculate return on investment and identify channels for growth.
Key Purpose -Data-driven eCommerce analytics
For – Agencies, Brands, eCommerce stores
Price – Custom plan
Free Trial – Book a demo
Brand Analytics | Social media monitoring and analysis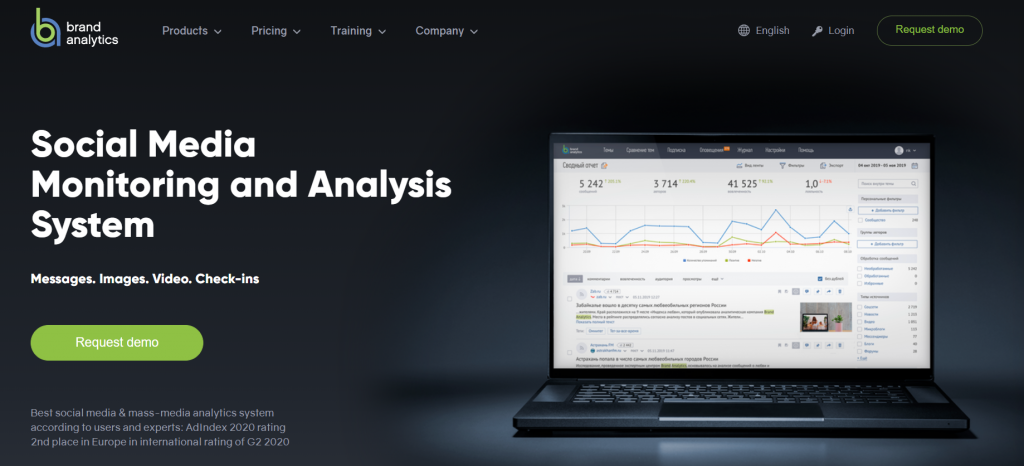 Whilst Google Analytics and many of the platforms in this post help you to understand your website impact through analysis, this tool intends to capture something a lot less tangible – your brand.
By monitoring your social media and marketing activity and response, Brand analytics can guide your PR, marketing and Customer service strategies based on the reports from their media monitoring and trend insights.
Key Purpose -Understanding brand reception
For – PR, HR, Senior management
Price – Start up, Basic, Expanded
How can you use Data Analysis to maximize your B2B Marketing Campaigns
One of the most difficult things about running any kind of B2B Business is the sheer amount of analysis that is required on your end.
The marketing that takes place when you are trying to sell to other businesses differs massively from the type of marketing you take on when you are selling to individual clients.
Therefore, the majority of B2B Analytics is found to be very hard to follow for many marketing and sales teams who have attempted it.
By using traditional analytics tools, you will find that your own potential is vastly limited in terms of what you can find out and what you can actually use to your advantage.
What is important to a business is using the right type of data management tool – more than ever, a B2B business needs to be able to use as many different metrics as possible to look at not just who is looking at your website, but who they represent.
Are you getting a lot of people from the one company checking out your website?
Using this type of B2B Analytics, you can really change the effectiveness of your marketing campaigns in the future to suit the right type of people who are actively interested in what you are offering.
At the very least, you should be looking to garner the following about each and every business that is looking at you.
What they are involved in
What do they sell?
How big is the business?
What are they called?
How many staff do they employ?
How do they behave on your website?
The last one might sound rather tricky, but try and look into the habits of a company staff member when they are on your website.
What pages do they visit most?
You can then start to tailor your marketing efforts in the future based on the perceptions of the businesses that check out your offerings regularly.
The information that you gather through the analytics program will help you create a far more bespoke experience for each client, as your sales team get to know the profile of each business you work with more efficiently.
This makes it easier to engage the client and really make a big difference with regards to the potential outcome of the overall process.
Additionally, when your analytics is showing you who is visiting, it will show you what they were visiting.
This makes it easier to know what campaigns are doing the best for you and what is actually converting at the highest, so you know the template to follow in future marketing for similar offerings.
These Data Analysis Tools will provide you with that in abundance.