With this content, we aim to present you with a comprehensive overview of the best and most effective lead generation tools available to help grow your business across numerous channels.
Lead generation tools work by attracting, packaging, capturing or providing data that is relevant in order to help your business grow.
It operates within a wider lead generation strategy and it is part of the process to generate an additional volume of opportunities or to deliver a stronger quality of lead with further qualification and insight.
A lead is someone who has displayed an interest in your service or offering and, by definition, lead generation is creating repeatable actions based on logical patterns.
It is important to be adaptable and creative when looking for ways to generate new and better leads.
With this, there are different tools that support the various stages of lead generation such as authoritative branding, awareness, traffic, access, or an offer.
Read more: How To Convert Your B2B Inbound Leads Into Customers
All of the combinations play a key part in order for leads to be generated.
So here are some effective ways for you to use Lead Generation Tools to grow your business.
Here Are 13 Lead Generation Tools To Grow Your Business
Website Visitor Tracking
LeadQuizzes
MobileMonkey
PhantomBuster
Hunter Email Finder
Growbots
SimilarWeb
Ocean.io
Fomo
Hotjar
Tribe
Unbounce
ManyChat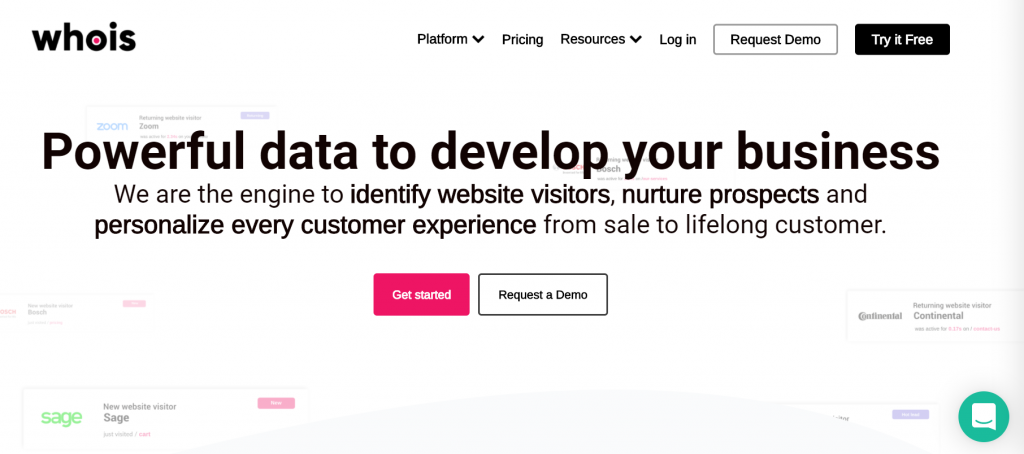 Who is Visiting is a Lead Generation software for B2B Businesses. It identifies businesses looking at your website and receives the contact details to explore interest, follow-up, or engage directly. You can book 14-days with a Free Trial.
How you can get the best of the Who Is Visiting tool:
Set Trigger alerts to notify your team and get real-time business data;
You can access your dashboard to create effective reports;
Create tags to identify your leads opportunities, clients, and tasks;
Integrate the platform with some apps to simplify and automate your teams work;
Use those data to know more about who is visiting your website and then, improve your marketing and sales approach.
Read more: How does Whoisvisiting work?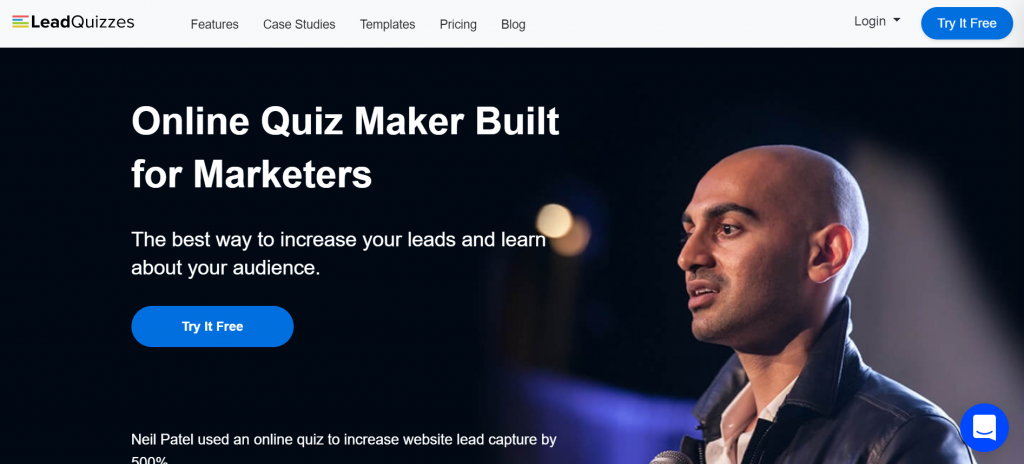 Lead Quizzes helps you to collect more leads by creating engaging content for website visitors in exchange for their information.
It allows you to build a variety of quizzes, forms, and surveys in order to capture additional leads.
The quizzes can be accessed on your website and distributed to your target audience through social media and email.
There are so many templates available to get started for your niche and alternative formats to experiment with in terms of the best fit for your audience.
How you can get the best of Lead Quizzes tool:
Use those quizzes and surveys to know more about your audience. Chances are you will create more effective strategies to get more qualified leads;
You can create interactive content to engage your audience with your brand;
You can set triggers to a specific page where you insert your quiz or survey to understand the behavior of the engaged audience;
It can be integrated with a variety of tools.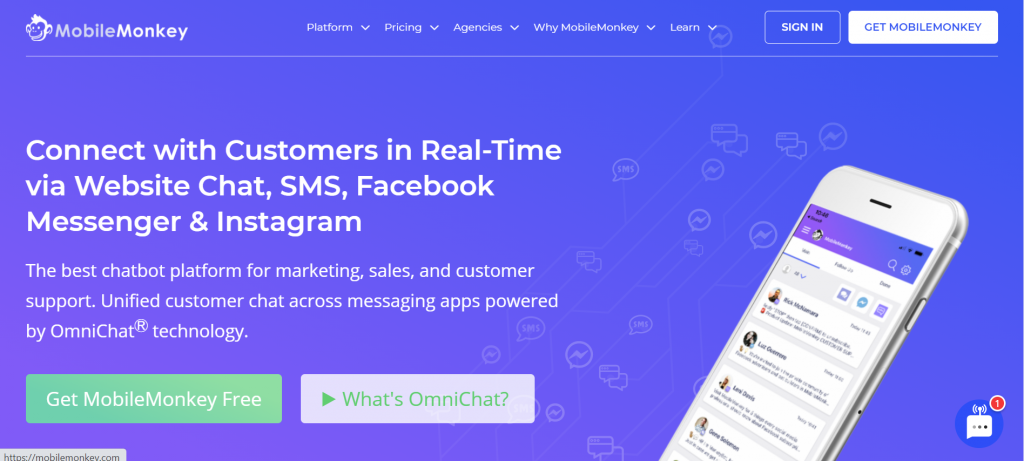 MobileMonkey is a multi-platform chatbot builder that helps you to integrate and unify the various chat channels where you keep in touch with the customer – through its Omnichat Technology.
The tool allows you to automate messages and use them in different chats, making the process more agile.
How you can get the best of the MobileMonkey tool:
Improve the customer experience by making processes more agile;
You'll be talking to customers directly on the messaging apps they're using;
Get the chance to communicate quickly with hot leads;
Phantombuster — Data extraction and automation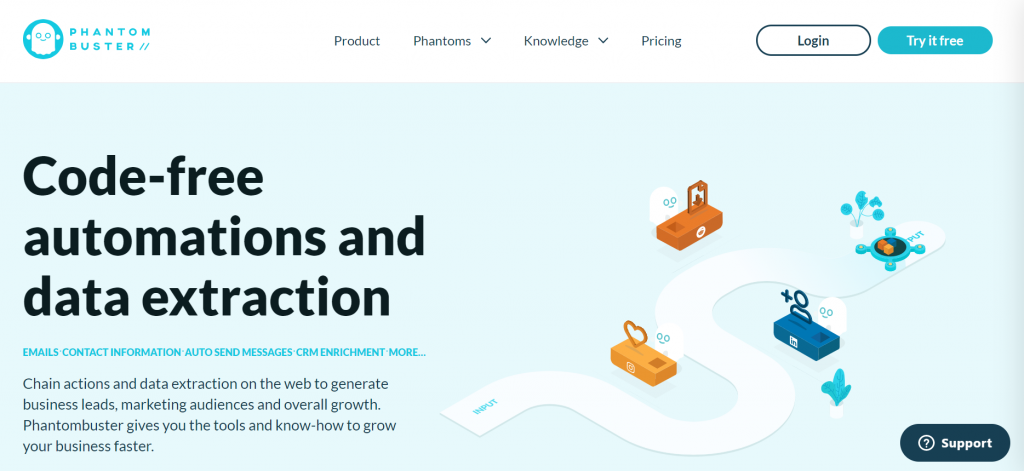 Phantom Buster is a versatile tool that can be used to generate leads through relevant data extraction and engagement automation.
The Phantombuster store is packed with automation options for online action across numerous platforms with amazing case studies showing you how to connect tools for a more efficient result.
How you can get the best of the Phantom Buster tool:
You can schedule and automate almost any action that you may have to do on social media. For example, auto-following profiles, auto-linking posts, sending customized messages, accepting requests, and more;
Extract those data to get even more insight and analysis to grow your content strategy.
Hunter — Email address finder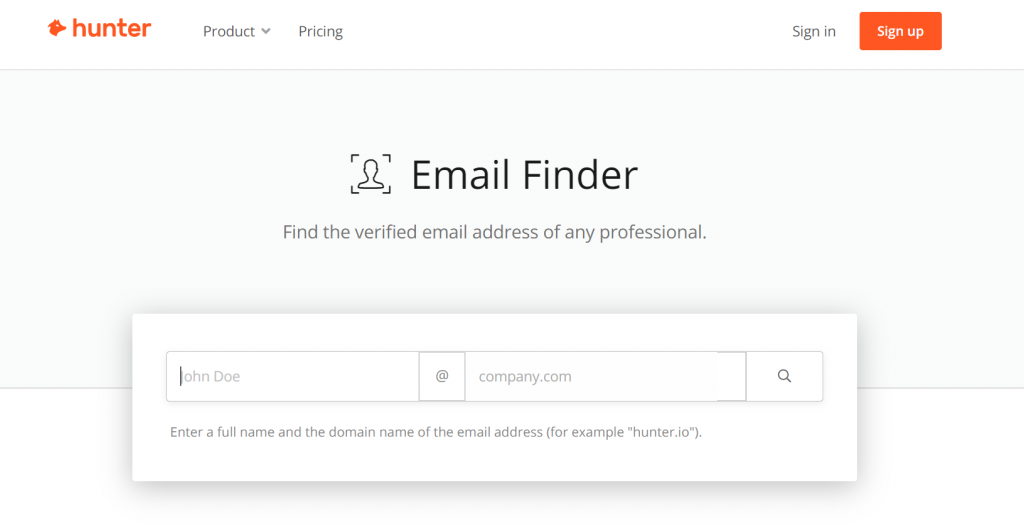 Hunter is one of the most established and reliable tools for discovering company and professional emails.
It is a resource to use for helping you get to the most appropriate person and accelerate business communications.
The available tools Hunter provides include an email finder, verifier, domain search, and API.
Read more about: How To Find Any Email Address – Ultimate Research Study
How you can get the best of the Phantom Buster tool:
Use it to generate a list of more effective (and valid) leads so that you can improve your sales approach and speech;
Growbots — Outbound lead generation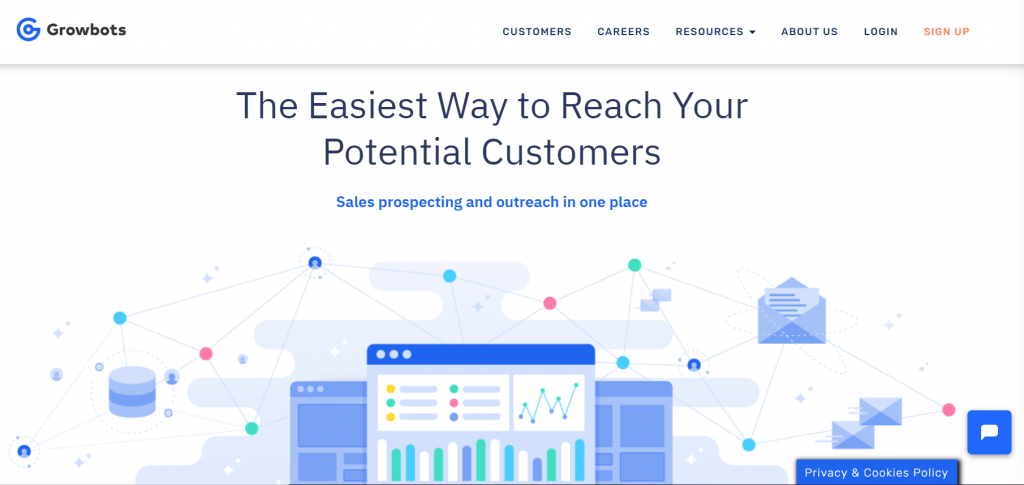 Growbots is the email tool to assist your email marketing campaigns and outbound sales growth.
All-in-one features that give you the tools to upload or generate prospects with intelligent targeting and follow-up.
How you can get the best of GrowBots tool:
Automate your marketing communication, campaigns, and follow-ups;
You can use it to create notes and actionable tasks with its collaborative environment;
Use A/B tests to get more insights to improve your campaigns.
SimilarWeb —Website technology profiling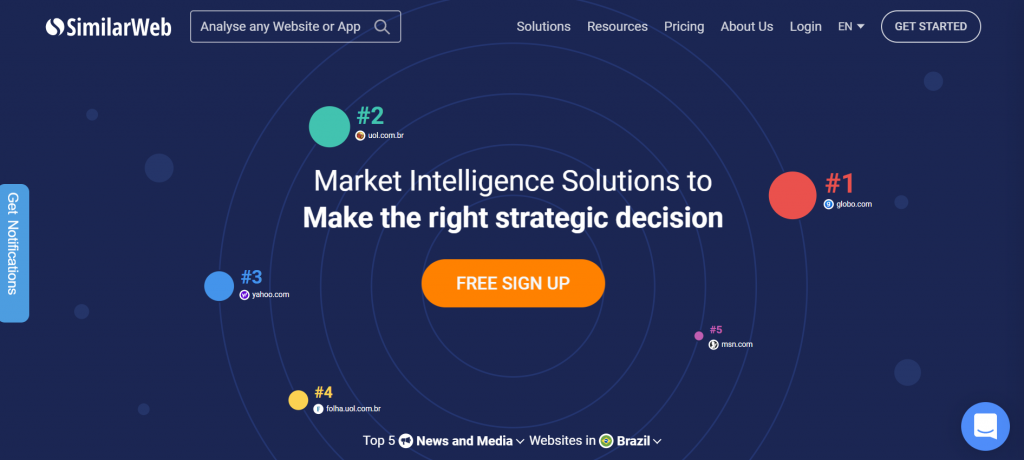 With Similar Web, you can build a lead list with solutions for competitive marketing intelligence.
It is designed to uncover growth opportunities with technology databases.
How you can get the best of the SimilarWeb tool:
Analyze its data to get better insights into organic and paid content, affiliate, and partnership strategies;
Also, analyze competitors and market data to understand trends, customer behavior, buyer journey and benchmark it for better decisions;
Combine this information to your marketing and sales team;
Use SimilarWeb Chrome Plugin to see website traffic and key metrics for websites, like traffic and keyword ranking, engagement, and traffic source.
Ocean.io — Growth intelligence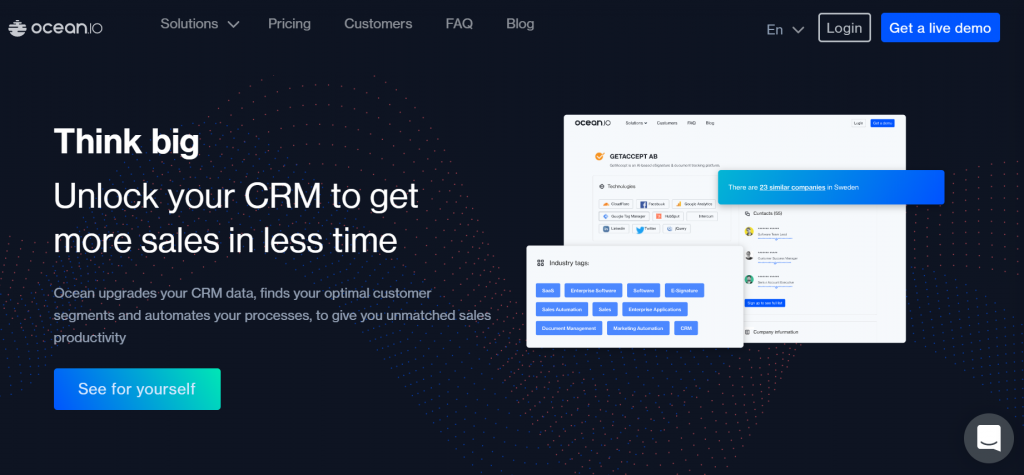 Ocean offers packages for lead generation using Big data and AI-based results by integrating with existing databases and CRM Integration.
A process that analyses your customer data identifies the best qualities and creates targets from a look-a-like database.
How you can get the best of Ocean.io tool:
Use its data to make decisions about improving your CRO, reduce your Customer Acquisition Costs and Churn, Sales, and Funnel Efficiency. Chances are you are going to see your business healthy growth!
Set automated management to focus on strategic activities and decisions;
Fomo — Social proofing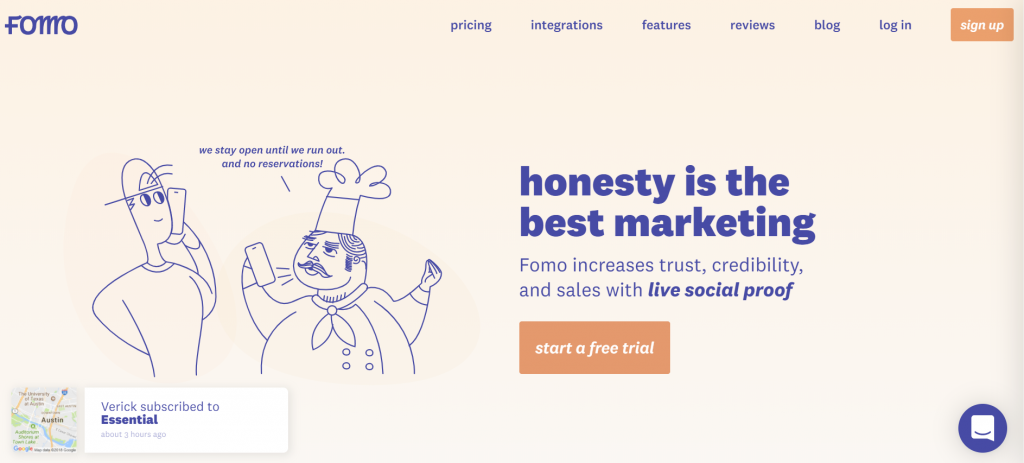 FOMO social proofing exists to build trust and confidence in your website traffic perception of your brand, offer, or service.
Its simple solution customizes social proofing messages to encourage conversions and create relative emotion.
This tool will indirectly help you to generate leads by increasing the conversions at each stage.
How you can get the best of the Fomo tool:
Current buying behaviors make consumers think twice before making a purchase decision – that's why social proof became such an important strategy for businesses.
You can customize its information and template to show important updates and actions that your leads are doing on your pages.
Hotjar — Website Heatmaps & behavior analytics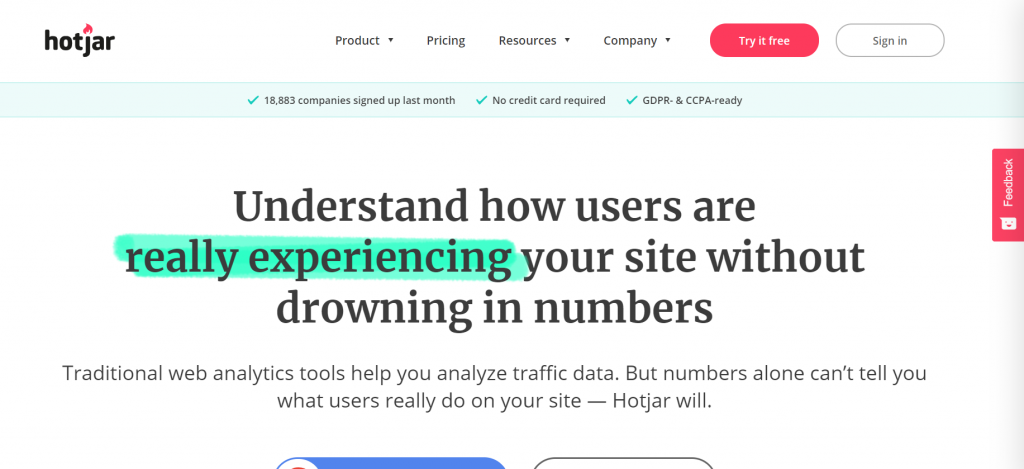 Hotjar is a user experience based tool focused on helping you to understand your visitors' behaviors on all of your pages — through heatmaps, recordings, funnel conversion reports, and feedback polls/surveys.
How you can get the best of the Hotjar tool:
You can definitely use its recordings and heatmaps to understand how to improve the design of your pages, CTA, copies, and usability. Therefore, growing your conversions;
Analyze your site performance and what your visitors are clicking or ignoring to make a/b testing decisions;
Create a better user experience for your business!
Tribe— Community app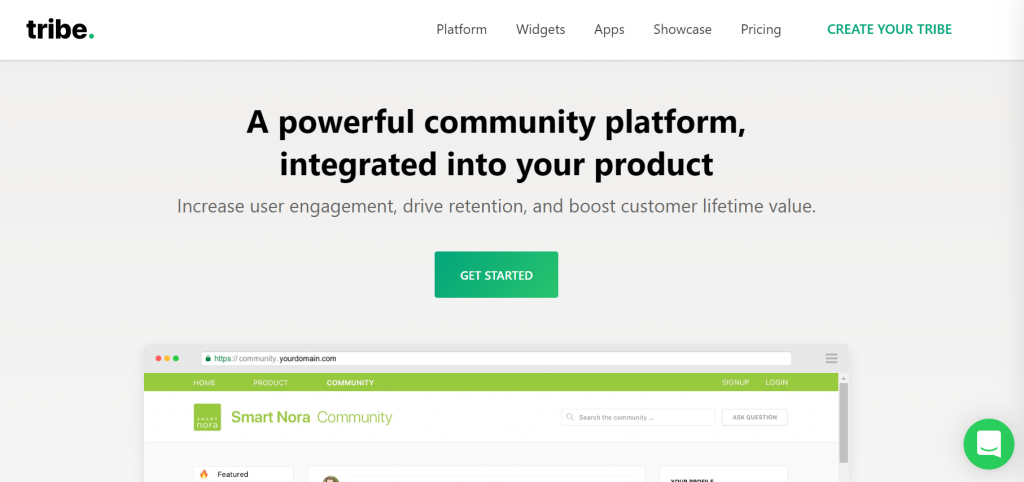 Building a dedicated community for your brand and business to share information, new content, and deliver first access is a powerful way to generate leads for the long-term — by creating a relationship with them.
It is a patient approach but for sustainable growth, it gives a reliable way to ensure trust and access through trust over a period.
It is possibly one of the purest ways to grow a business by not selling, but engaging and helping.
Naturally, as your community builds, your impact is stronger, the presence is greater and leads are generated through and off-the-back of your reputation and perception.
How you can get the best of Tribe tool:
Nowadays businesses are trying to create more than just clients, but real fans of their brand. And it happens because purchase decisions are getting by more critical customers. Most people need to feel really involved with all the buyer's journeys to be confident about a product or service — and to referral it.
Creating a community towards your product/service or market is a long-term strategy for creating a relationship and trust to keep customers engaged with your brand — and also to boost customer lifetime value;
Use it to empower your brand authority and chances are that you are going to increase your organic sales.
Unbounce— Landing page builder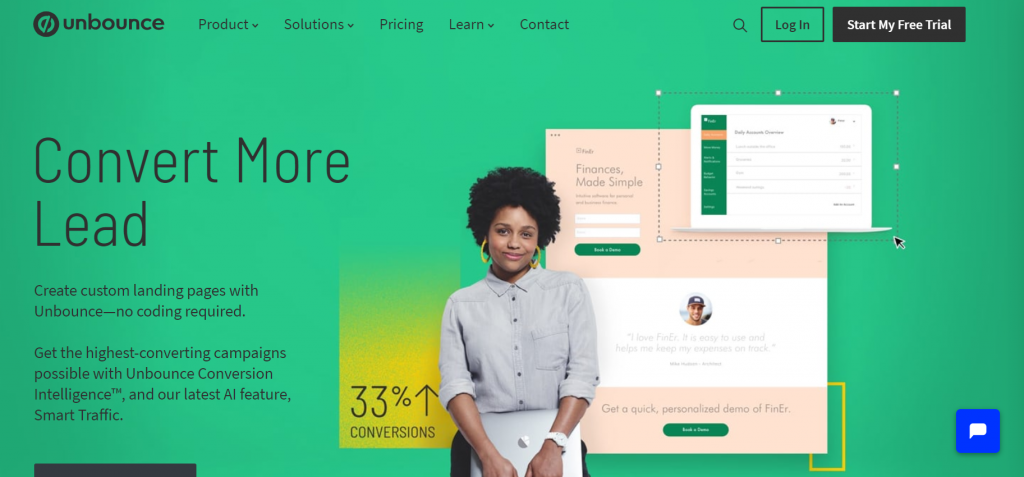 Unbounce is a landing page builder that helps you to capture leads by aligning specific campaigns to present a more targeted and personalized experience. With no coding skills required!
It is a friendly-to-use, drop and drag builder with plenty of useful features that can be embedded.
How you can get the best of the Unbounce tool:
You can duplicate your designs and amend them for complete flexibility to structure the best landing pages for each pathway;
Explore the available templates or create your own from scratch, based on your brand and needs — and also to set a/b tests;
Not only landing pages are provided, but also popups, sticky bars, and integration opportunities as a chance to improve your conversion rate.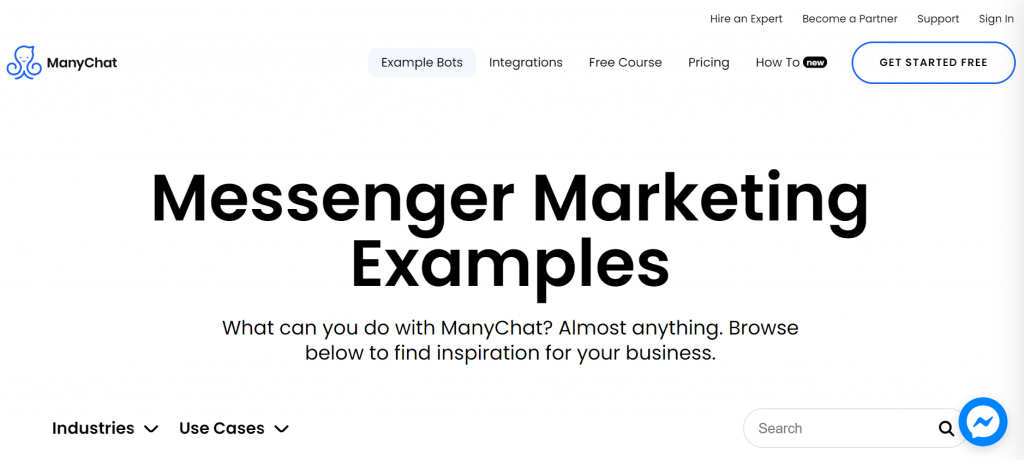 Manychat allows you to build a chatbot through Facebook messenger and engage with website visitors.
It helps to generate leads by building relationships with people in a personalized way.
As you can check in all images above, almost every website has a chat tool so that they can provide an easy way for leads to communicate with the businesses.
How you can get the best of the ManyChat tool:
It is easy to set up, use, and can deliver strong results through automation with intelligent growth tools;
It's a way to deliver a quick answer for your leads questions when necessary — and then simplify your buyer journey;
You can understand what are the most frequently asked questions from your leads, and then use it to improve your website communication and user experience.