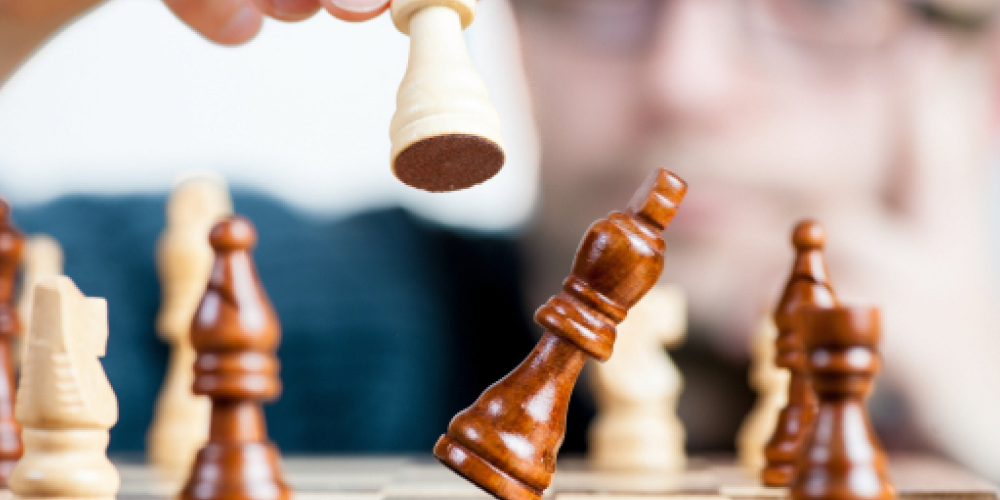 Do you know what your B2B competition is doing?
In an industry such as ours, we have a lot of B2B competition and there are many factors that can set us aside from the competitors. 
It doesn't matter if you are starting from scratch: knowing, understanding, and monitoring what your competitors do is essential to making decisions that really deliver results for your company.
The point is that today, there is no guarantee that a business will succeed in the long run.
Technological advances reduce the life cycle of many products and services.
In addition, business models change quickly and new competitors appear everywhere. It is not easy to guarantee growth and profitability.
That said, I hope you have asked yourself at some point:
What do you know about your B2B competition?
What kind of customers are they targeting?
What's their social media marketing strategy?
Are their customers frequently engaged with them via social media?
And how is their reputation in the market?
As important as it is to keep an eye on your B2B competition through market research, many small and large business owners know little or nothing about what their competitors are doing to reach their customers.
There are many benefits to keeping a birds-eye view on what your competition is up to.
You can do that from conducting regular competitor analysis and having a policing list of your competitor's details.
Also regularly looking at their online activity which will give you the ability to develop your strategy around what the competition is doing.
You will be able to see their weaknesses (i.e. customer service issues) and you get great ideas to improve your own strategy.
Also read: B2B Content Marketing: brilliant ways to grow your business
It may seem obvious, but the first step with the market research in analyzing the competition is to define who your competitors are. 
First of all, you need to identify your direct competitors, that is, those who have products like yours and that dispute the same market as your brand.
Next, define your indirect competitors, who are those who offer products similar to yours, or who satisfy the same need or desire as yours.
The purpose of competitive analysis is to find information, data and indicators that point out what the company is doing to stand out in the market.
Thus, it is necessary to make a detailed mapping of the brand that is being analyzed at different points and in different ways.
What are good methods for analyzing your B2B competition?
According to the Small Business Marketing blog from Duct Tape Marketing, setting up a competitive listening station is the best way to keep tabs on your competitor's social activity.
Here are also some good places to start:
Create lists to monitor their social activity on Twitter, LinkedIn, Google+ and Facebook
Research their brand on SocialMention
Find and follow their YouTube channel
Subscribe to their Yelp RSS feed and monitor their reviews
Subscribe to their blogs using tools like Feedly or Feedbin
Staying ahead, trying new, and exciting things will give you enough competitive edge to catch the attention of new clients.
There are a lot of businesses out there selling the same products and same services, why should they come to you?
Be creative and stay ahead of the game! Some ways to do this involve market analysis, such as:
Comparisons: by using an analysis of closest competitors, with specific businesses;
Groupings: when you need to analyze and categorize a large amount of market data;
Micro-approach: To make a predictive analysis of what your competitors are planning for the future according to their behavior involving positioning, product, website, communication, etc.
Also, some questions you should ask before starting:

What are their strengths?
Their weaknesses?
Why are your competitors outranking you?
What marketing strategies are they following?
Which keywords are they ranking for?
What kind of content they're delivering?
How do they communicate with the public?
Here are 3 competitor analysis frameworks to use in your market research
There are different types of market research that can complement your competitive analysis. And some frameworks that can help you with that.
See 3 examples of frameworks for how to do market research:
SWOT ANALYSIS
SWOT Analysis is one of the simplest, and at the same time useful, tools that a company has at its disposal to understand the environment.
And also to create the base of information necessary to plan its future.
It assesses the company by looking at its strengths and weaknesses and also taking into account factors internal and external to the organization that includes a scenario analysis for decision making, observing 4 factors.
S → strengths: all the company's internal strengths and advantages over its competitors.
W → weaknesses: the main internal disadvantages of the company in relation to competing companies. In a very sincere and honest way, it is necessary to know what are the weaknesses of the organization that harm the business in some way.
O → opportunities: the external forces that positively influence the business, the aspects with the potential to increase the company's competitive advantage.
T → threats: the negative aspects and with the potential to compromise the company's competitive advantage, that is, the opposite of opportunities. Threats must be treated with great caution, as they can harm not only the company's strategic planning, but also the results.
The strengths and weaknesses concern the decision maker – that is, you and your company.
Opportunities and threats, on the other hand, talk about external factors that are beyond your control.
PORTER'S 5 FORCES
Those 5 forces study the forces that influence a company's ability to serve its customers and make a profit, and act as pillars for a company.
There are:
Threat of substitute products: a substitute is a product or service that can be of a different type of category, but can be used in place of an existing product;

Threat of entry of new competitors: by analyzing this threat, we must consider the growth of the market segment, profitability of the sector, growth of the economy, and also the differentiation of the service compared to that of competitors. ;

Customers' bargaining power: this one is all about the customers' ability to put the business under pressure and negotiate terms and payments;

Bargaining power of suppliers: similar to that of customers, but in another perspective – it refers to the bargaining power of companies when rendering services or negotiating their products.

Rivalry between competitors: it concerns the level of competition existing between market players.
They are the pillars of a company, and if one changes, one must re-evaluate its strategic positioning.
ANSOFF MATRIX
Ansoff's matrix aims to analyze the characteristics of the market and develop strategies to increase sales volume, whether with the creation of new products.
It conducts an analysis of the products and the market in which the company operates. For this, the matrix presents 4 different approaches:
Diversification: seeks to enter new markets with the development of new products;
Market development: focuses on entering a new market using existing products;
Market penetration: focus on increasing sales of existing products in an existing market;
Product development: seeks to introduce new products in an existing market;
From these factors, it is possible to define the best action plan to increase the profit generated by sales.
So, conducting strategic analysis with some frequency is fundamental to the prosperity of a business.
It is the only way to check what is working in the company and what needs to be adjusted.
Use those research techniques to get insight and identify ways to improve your own business.